The streamlining of customs and immigration between Australia and New Zealand is gaining momentum, with a major announcement by both governments set for August, according to New Zealand Prime Minister John Key.
By James Wilkinson in Auckland
The streamlining of customs and immigration between Australia and New Zealand is gaining momentum, with a major announcement by both governments set for August, according to New Zealand Prime Minister John Key.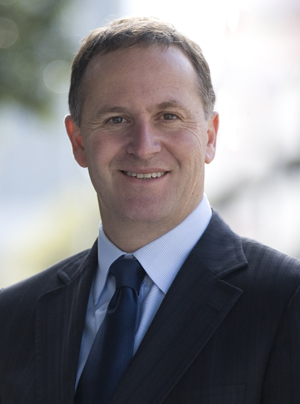 New Zealand PM John Key
In his opening address to over 200 delegates at today's (May 14) New Zealand Hotel Industry Conference (NZHIC) in Auckland, Key said the streamlining of travel between the two countries in the near future was a major priority for the government.
"We want to cut red tape at the border," he said. "When I visited Australia earlier this year, Prime Minister Rudd and I agreed to streamline the customs and immigration at international airports for trans-Tasman flights.
"Our thinking is that the more we can get Trans-Tasman travel to feel like a domestic flight, the more Australians will come to New Zealand.

"I expect we'll be able to make some announcements about this when I head to Australia again in August, but it's fair to say things are progressing well," Key said.
Billed as the most tourism-focused Prime Minister on either side of the Tasman in decades, Key outlined his vision for New Zealand tourism at the conference and highlighted a series of initiatives already undertaken.
"I have a vision for tourism in New Zealand (and) it is one simple goal," he said. "My vision is that we make the very most of our competitive advantages and that we seize the many opportunities they provide.

"I believe there are five things we need to do to achieve this. We need to make New Zealand a higher-value destination. We need to respond to the world as it changes. We need to improve the business environment. We need to work more closely with each other. And we need to make the most of the Rugby World Cup," he said.
One of Key's first responsibilities as PM was to increase tourism marketing spend in Australia last month – something that is set to provide New Zealand with a $51 million windfall.
"Just last month we announced that the government is providing an immediate $2 million boost for tourism promotion in Australia – and Air New Zealand matched this with another $2 million.

"Our research suggests that this could create around $51 million of revenue for New Zealand and deliver about 35,000 extra tourists from Australia.
"It is early days, but it looks like the number of tourists coming out of Australia has increased since this funding boost," he said.
In the lead-up to last year's New Zealand election, Key said tourism would be a priority should his government gain power – and that's exactly what he has done. Tourism was elevated from the 14th most important portfolio right to the very top.
"Tourism is hugely important for our economy and our future," Key said. "It is experiencing some challenges at the moment, and as hoteliers you are at the frontline of these. But New Zealand has some important competitive advantages, and we have much to gain if we can keep lifting our game.
Key said a number of travel sectors – including leisure, business, MICE and sport – were the keys to the growth of tourism, particularly around the Rugby World Cup in 2011, an event that proved hugely successful for Australia in 2003.
"Making the World Cup a success is one of our absolute priorities and there is a lot of work going into this," Key said. "Every single person in the tourism industry needs to realise that it may be some time until we get another opportunity as big as the World Cup.
"The Cup will stretch our resources in a way that no other event has. We need to make sure that what we provide is up to standard and visitors must leave New Zealand singing our praises and yearning to return, not complaining about the experience they have had," he said.
Key has also recently been using his position as Prime Minister to promote tourism to New Zealand on a global stage – another huge advantage of having the country's highest ranking politician in the tourism role.
"We need to ensure our marketing efforts are focused on the right countries. That means the markets that have traditionally generated many of our visitors, such as Australia and the United Kingdom.
"But it also means developing newer markets with a growing number of wealthy tourists, such as China. China has around 53 million outbound tourists a year but only 100,000 come here. As it gets wealthier, there will be a lot of potential growth we can tap into.

"That's why tourism was one of the big issues on the agenda when I visited China last month. And that's why we have signed a tourism cooperation agreement between our two countries. This will lead to greater coordination between Tourism New Zealand, our Ministry of Tourism, and the China National Tourism Administration.

"In every international market, we must make the best use of our limited assets," he said.
Early forecasts have the China market picking up by almost 10 per cent over the next two years, but following the signing of the agreement, that could be much higher.
Air access is a key to the success of New Zealand as a destination, both short-haul from Australia and further afield. Australia currently provides 41 per cent of tourists to New Zealand, followed by the UK with 11 per cent and the USA with 8 per cent.
Once immigration and customs is streamlined between the two countries, both Australia and New Zealand will benefit in not just tourism, but also trade. The MICE market will also see a huge benefit, with conference numbers on both sides of the Tasman set to increase dramatically as travel time is greatly reduced.
Key's announcement comes as Emirates ramps-up flights between Sydney and Auckland. Hundreds of extra seats have been added to the route, thanks to the arrival of daily A380 flights.
"Emirates made a commitment to increased services to the Australian community some years ago and while we have promised big things for this market we have also delivered, even in the present economic times," said Emirates vice president – Australia, Stephen Pearse.
Emirates flies daily from Brisbane, Melbourne and Sydney to Auckland using a range of aircraft, including the Airbus A380 super-jumbo. For bookings, click here.