New Zealand's leading hoteliers have praised Pacific Blue for bucking the travel trend and launching new trans-Tasman flights - in particular a new service linking Sydney and Queenstown.
By James Wilkinson
New Zealand's leading hoteliers have praised Pacific Blue for bucking the travel trend and launching new trans-Tasman flights – in particular a new service linking Sydney and Queenstown.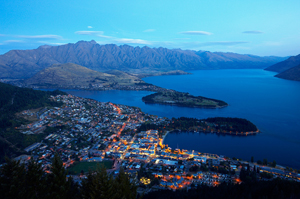 Queenstown is set to benefit from new direct flights
Traditionally the most expensive trans-Tasman route, Sydney-Queenstown has been a lucrative service in recent years for both Air New Zealand and Qantas.
But all that will change on September 1 when Pacific Blue starts flying from just $269 each way.
The airline has also announced the launch of direct, thrice-weekly Brisbane-Dunedin and Sydney-Wellington flights from September 1 and September 24 respectively.
The move from Pacific Blue to attack the Sydney-Queenstown route bodes well for the Queenstown MICE market, which had seen a drop-off in conference bookings and incentive trips in recent months.
When SpiceNews contacted a number of leading hoteliers, the new flights – which come on the back of last week's announcement by Pacific Blue of new Hamilton services from Brisbane and Sydney – were unanimously praised.
Eichardt's Private Hotel general manager and Queenstown chairperson for the New Zealand Hotel Council (NZHC), Victoria Shaw, said the direct Sydney-Queenstown flights offered a number of opportunities for the region, particularly with group bookings.
"The launch of direct Pacific Blue flights should assist in off-setting the fall off we are seeing in some of our traditional long-haul markets," she said. "The more cost-effective flights that we can have coming direct into Queenstown the better in this current economic environment.
"The MICE market will benefit not only from a cost perspective, but also time-wise as there will be no stopping in Auckland or Christchurch, and they will be able to move larger volumes of people with access to three airlines flying direct.
"As time is valuable, this will make Queenstown a more viable option, we now just need the conferencing facilities to meet this new capacity," she said.
Extra conferencing facilities are on the horizon, with the first stage of Melview Developments' Kawarau Falls Station set to open in early 2010.
Kawarau Falls Station includes a 235-room InterContinental Hotel, a 295-room Quadrant Hotel, a 178-room Westin Hotel and a 195-room Quay West Resort. Extensive conferencing facilities are an integral part of the development, with a capacity of 900 banquet-style at the InterContinental alone.
InterContinental Hotels Group regional manager – New Zealand and South Pacific, David Shackleton, said the increase of services into Queenstown is very welcome news.
"With a Crowne Plaza hotel in Queenstown and an InterContinental hotel on the way as part of the Karawau Falls development, we're particularly pleased at the show of optimism from any carrier adding Queenstown to its network, or increasing services to the destination," he said.
"This is also great news for New Zealand tourism as a whole… we know travellers to this country are more likely to move around, rather than restrict their visit to a single destination.
"The greater the capacity to bring travellers from New Zealand's biggest inbound market – regardless of where they disembark – the better it is for tourism," he said.
Two of New Zealand's largest hotel chains – Accor and Heritage Hotels – were also upbeat about the new flights, which will see Pacific Blue offer more trans-Tasman routes than any other airline in the region once launched.
"We are already seeing the growth from Australia come through in occupancy figures in our hotels in Auckland, Wellington, Rotorua and Queenstown, and we think the new services will further stimulate a market that is very value driven at the moment," said Accor vice president – New Zealand and Fiji, Paul Richardson.
"We particularly think it will benefit mid-market hotels such as our Novotel and Mercure hotels as the new flights and bargain prices are generating a new market of travellers who are coming to New Zealand because they perceive it as a really attractive short-break destination," he said.
Richardson was also upbeat about the conference market picking up in Queenstown.
"The MICE sector has been depressed for some time, but if the price is right and there is easy access, Queenstown is a destination that is really likely to benefit from new air services from Australia," he said.
"We are already seeing growth in sales-based incentives and this is a market that would be ideal for Queenstown.
"There is also a possibility that destinations such as Rotorua will benefit because with the new services to Hamilton announced, it makes it easier for groups to get to Rotorua, instead of having to go via Auckland," he said.
Heritage Hotels chief operating officer – Jeff Shearer said new flights now meant every major New Zealand destination could now compete with Australian states in terms of price and value per delegate.
"The frequency, choice of carriers and competitive pricing opens up the chance for Australian businesses to consider us on a par with any interstate destination," he said.
"Like the hotel industry, competition is healthy between airlines and Pacific Blue's new services will provide another option ensuring the expansion of the trans-Tasman market."
Virgin Blue CEO Brett Godfrey said the airline's foray into Queenstown would mean it would be the first time a low-cost airline had operated internationally to the city and that meant a new level of affordability for travellers on an ongoing basis.
"Travellers from both sides of 'the ditch' have made it clear they want the same access to low fares and the convenience of direct international flights that the people from the major cities often enjoy and our announcement today goes a long way to achieving that," he said.
Godfrey said connecting flights would be available to Queenstown from Brisbane, Melbourne, Perth and Canberra; and to Dunedin from Melbourne, Sydney, Darwin and Perth.