Cape Town based Giltedge Travel has been singled out as South Africa's Leading Luxury Tour Operator at a glitzy Gala Presentation Dinner held at the Sandton Convention Centre in Johannesburg last Wednesday
Cape Town based Giltedge Travel has been singled out as South Africa's Leading Luxury Tour Operator at a glitzy Gala Presentation Dinner held at the Sandton Convention Centre in Johannesburg last Wednesday (7 July)
World Travel Awards serves to acknowledge, reward and celebrate excellence across all sectors of the global travel, tourism and hospitality industry. There are many travel awards throughout the world – but only one World Travel Awards. The Wall Street Journal describes the awards as the 'Oscars' of the travel industry.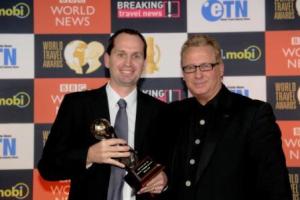 Giltedge taking out tops honors at the World Travel Awards in South Africa
This year an astounding 183,000 industry professionals participated in the voting process which is scrupulously monitored and independently audited.
"Achieving top spot is a real honour and it's thanks to our wonderful staff complement that we received this award. It is incredibly humbling to see the motivation, dedication and hard work within our diverse and extremely knowledgeable Giltedge team," said Giltedge director, Murray Gardiner.
This award comes as Giltedge celebrates 10 years of business and comprises of 3 companies. Giltedge Travel operates primarily with the inbound international market offering innovative itineraries to Southern Africa, East Africa and the Indian Ocean Islands to a discerning, upscale clientele. Giltedge International is a leading supplier of travel management solutions and leisure travel services in Southern Africa. Giltedge DMC offers specialist services to South African corporate clients wishing to reward their staff with lifetime travel experiences both in Africa and around the world.
To find out more about Giltedge, click here