Abu Dhabi's tourism industry is confident about event and exhibitions prospects leading up to and including 2010
Abu Dhabi's tourism industry is confident about event and exhibitions prospects leading up to and including 2010 with the second Abu Dhabi Tourism Authority (ADTA) comparative confidence survey showing that seasonal cooler weather, the 2009 Etihad Airways Formula 1™ Abu Dhabi Grand Prix to be held this November and the FIFA Club World Cup UAE 2009, which kicks off this December, helping to restore confidence levels.
Over the coming 12 months, events and exhibitions were identified as opportunities with other positive influencers being: economic stability, reduced room prices, increased attractions and developments, better infrastructure and services and the business travel sector.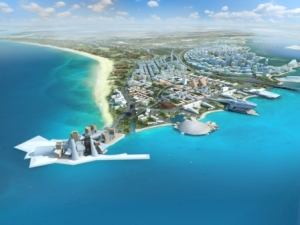 Abu Dhabi's continuously groing tourism industry is confident
for the year ahead calling events and exhibitions a huge opportunity
The ADTA survey, based on the United Nations World Tourism Organisation's (UNWTO) methodology for its global confidence index, questioned 120 local industry stakeholders including accommodation providers and tour operators. Abu Dhabi's tourism industry registered a confidence rating of 96 – which is 39 points ahead of the UNWTO's rating for the worldwide industry for January and April this year.
The survey results were unveiled at the ADTA's first annual industry forum, which brought together sector representatives from the accommodation, tour operator, attractions and retail, transport and business tourism segments.
Forum delegates also heard that improved air access to Abu Dhabi is opening up opportunities with the International Airport is now directly linked with 69 destinations, served by 32 airlines, with Etihad Airways, the national airline of the UAE, consistently expanding capacity. Passenger traffic at Abu Dhabi International Airport has grown significantly over the past five years, almost doubling from five million a year to nine million.
While occupancy and guest night rates for the July 2008-2009 year-to-date showed a drop of nine percent, average occupancy rates are a healthy 77 percent – still one of the world's highest.
Delegates also heard that significant additional room stock is being made available with approximately 10,000 rooms under construction to be delivered this year and through 2010, with a further 7,000 under construction to come on line in 2011.
For more information on holding your next conference or incentive in Abu Dhabi, click here.