The event is set to surpass previous attendance records, which was last year live streamed by 115,000 viewers from across Australia, New Zealand, and beyond.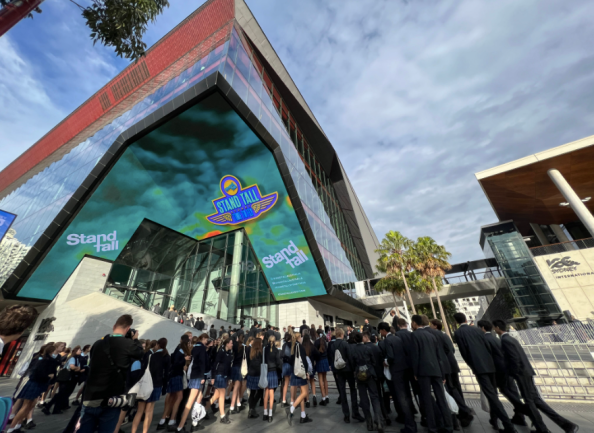 International Convention Centre Sydney (ICC Sydney), has welcomed Stand Tall, its charity partner event, for the seventh consecutive year, with today's event surpassing previous records in terms of in-person attendance and broadcast reach.
Following a sold-out hybrid event in 2022, the youth mental health charity welcomed 6,000 high school students at the Aware Super Theatre and will surpass last year's 115,000 live stream viewers from across Australia, New Zealand, and beyond.
Stand Tall 2023 features an impressive lineup of inspirational speakers and entertainers, including accomplished businessman and sportsman Michael Crossland, Australian singer and dancer Timomatic, and Australian professional rugby league footballer Nicholas (Nicho) Hynes. The event also brings together some of Australia's leading young talent and motivational speakers, who share stories of hope, courage, and resilience.
As Australia faces increasing instances of mental health issues among young people, Stand Tall aims to inspire attendees to change the trajectory of their lives and cultivate hope for the future. Hope plays a vital role in Australia's Gallup Student Poll (GSP), as it directly influences student goals, dreams, and life outcomes. The 2019 GSP revealed that only 42 percent of students reported feeling hopeful, while Stand Tall's event program positively impacted nearly three-quarters (74 percent) of secondary students surveyed.
Angela Farr-Jones, Stand Tall co-founder and associate chief executive officer, emphasised the importance of fostering hope and confidence in the younger generation.
"As Australia's youth grapple with evolving challenges – from cyberbullying to our environmental crisis and the rising cost of living, never has it been so important to instill hope into the next generation," Farr-Jones said.
"It is absolutely vital that as young people tackle the broader societal issues or their own personal challenges that they are given hope for a better future. Young role models really do inspire other people. That is why now, more than ever, Stand Tall is committed to providing meaningful connections to support young Australians."
ICC Sydney chief executive officer and group director of convention centres, Geoff Donaghy, addressed this year's audience and expressed pride in the partnership between ICC Sydney and Stand Tall.
"ICC Sydney is honoured to have supported our community partner Stand Tall to deliver their extraordinary event for the past seven years," Donaghy said.
"Leveraging our in house AV technology, talented events professionals and team member volunteers who support the event delivery, we have been able to creatively promote, plan and present this event – helping to expand its reach, to inspire more young people than ever this year and drive an important social impact legacy."
Stand Tall chief executive, Jeanine Treharne, praised ICC Sydney's unique technical capabilities and their contribution to the success of the hybrid event.
"ICC Sydney was instrumental in helping us to reimagine the Stand Tall event to include a live stream back in 2020," Treharne said.
"This year we have again kept this legacy going and with ICC Sydney's expert technical support, Stand Tall will reach beyond our attendees at Aware Super Theatre and help us to build hope in the lives of an unprecedented number of young people through the live stream."