Sirromet Winery in the Brisbane hinterland has just launched eighteen glamping sites, with more planned for the coming years. Emma Castle checks in, wine glass in hand.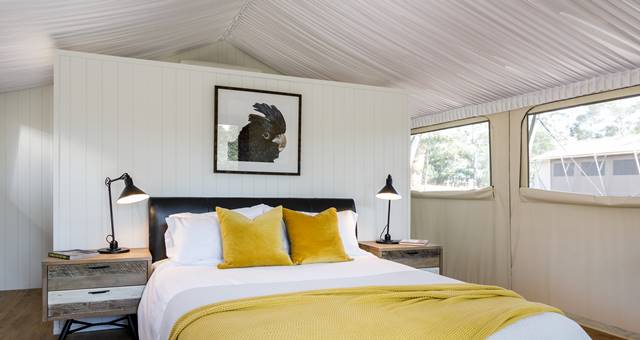 Sirromet Winery in the Brisbane hinterland has just launched eighteen glamping sites, with more planned for the coming years. Emma Castle checks in, wine glass in hand.
Just 35 minutes from Brisbane Airport, you will find Mount Cotton, an area replete with lush subtropical farmland, lily-dotted lagoons and bizarrely, vineyards. Yes, vines. These trellised rows belong to Sirromet Winery, a family-owned venture that opened in 2000. But these vineyards are more for show than for serious production; the lion's share of the fruit in Sirromet's award-winning wine comes from the Granite Belt, three hours north-west of Brisbane.
While wine – and the culture of joie de vivre that surrounds it – is very much at the heart of Sirromet, the site has evolved into a multi-purpose event centre as much as a winery. There's a multitude of venues on-site, from a pavilion overlooking a natural lagoon, to the Tuscan Terrace with sunset views over rolling hills, a mood-lit, concrete-floored barrel room, and the warmly elegant Lurleen's Restaurant where executive chef Mathew Fulford is rattling the pans.
Fulford took over recently and has refined the menu, added in more local and native produce, and started experimenting with things like asador cooking for outdoor events held in the surrounding paddocks. With a background that takes in stints at Qualia, The Lake House and Little Big House in Brisbane, Fulford's dining aesthetic is pure modern Australian with a seafood-driven Queensland twist.
So what can event planners look forward to at Sirromet? Read on for some standout experiences.
Sanctuary by Sirromet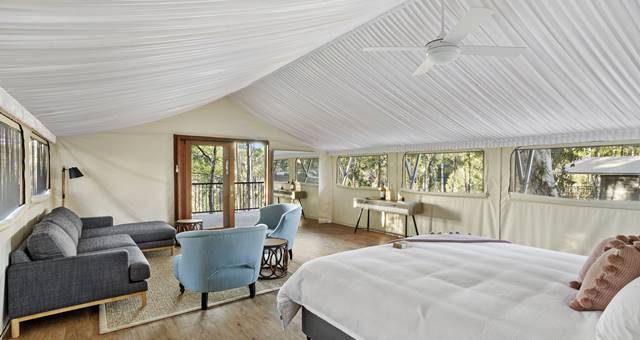 Glamping has come a long way since the first pimped up tents arrived on our shores. Indoor bathrooms, air conditioning and mini bars are just some of the features of the new-gen tents that grace the grounds of Sirromet. Overlooking a tree-fringed lagoon, the new structures have an outdoor deck area, perfect for lounging with a glass of vino.
Sanctuary by Sirromet has eighteen tents in total, with at least 30 more on the drawing board. The existing number includes one honeymoon suite, two family tents featuring two additional single beds, and one fully accessible tent with ramp access and disabled bathroom facilities. One thing to note; this area is restricted to children over 10 years of age.
Gourmet Safari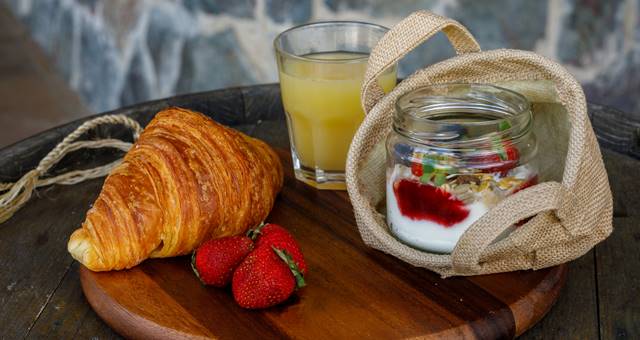 The Gourmet Safari is an ideal icebreaker for groups wanting to conference or team build on-site. The experience kicks off with a welcome glass of bubbles and canapés on The Arbour lawn, an event space that can comfortably take up to 200 people standing.
The experience then moves on to the second stop – a Supa Golf tee and seafood buffet where guests can gorge on fresh prawns, sashimi, Moreton Bay bugs, oysters and more, along with matched wines.
The final stop is down a dirt track, through the gum trees, to a fire pit surrounded by log seating. This is where guests get to enjoy lamb cooked over the hot coals, roast vegetables and salads, and Chef's outstanding shiraz bread, made with expired lees from the wine making process.
More wine, fresh air, the sound of birds and a hazy bush setting means that it feels more like a hayride than a corporate retreat.
Sunset Safaris Moreton Island day trip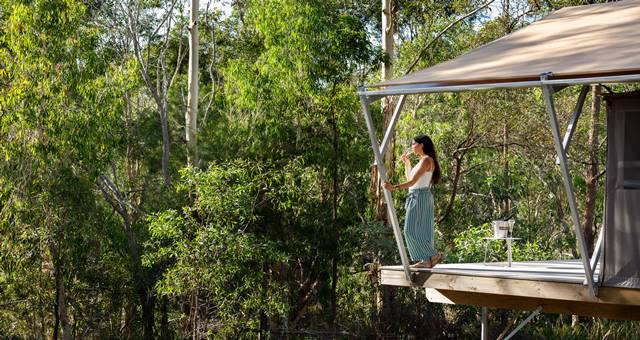 Sirromet overlooks Moreton Bay, a hazy strip of water in the distance, so it makes sense to go exploring. Sunset Safaris picks up from Sirromet and can take up to 200 guests over to the island. The regular tour includes a one hour ferry crossing that is open to the public but private transfers can be arranged. Once on the island, groups can snorkel over Tangalooma reef, kayak in see-through vessels, drive up the beach to the quirky coastal villages and go sand boarding in the 'Desert', the sand dunes in the centre of the island.
Moreton Island is the second largest sand island in the world (second only to Fraser Island) and its waters are home to green sea turtles, dugongs, dolphins, humpback whales (during winter), harmless wobbegong sharks and thousands of fish and coral species. On land, bird life is prolific but there are no large fauna due to the island's isolation from the mainland.