Virgin Australia business class has beaten Qantas for domestic business traveller satisfaction in the latest Roy Morgan Air Travel Survey.
Satisfaction for Virgin Australia among domestic business travellers is at *86% for the twelve months to July 2013, up from 77% two years earlier. Satisfaction for Qantas, on the other hand, has declined from 88% in July 2011 to 82% in July 2013.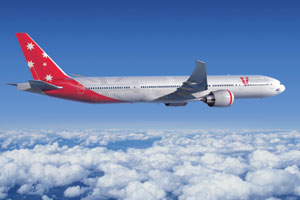 In the New Zealand market, Air New Zealand reigns supreme with 89% of domestic business travellers satisfied.
International Director of Tourism, Travel & Leisure at Roy Morgan Research Jane Ianniello said, "After a steep decline in domestic business satisfaction levels to 76% following the grounding of their planes in late 2011, satisfaction among Qantas domestic business customers rebounded to 85% in early 2012. However, since that time this figure has fallen back to 82%. As a result, Virgin Australia is now ahead of Qantas at 86%.
"The launch of its Business Class in 2012 has helped Virgin Australia maintain the high level of satisfaction it enjoyed after the Qantas stoppage.
"It's vital that airlines understand the demographics, needs and behavioural profile of their business travellers so they can ensure they're doing everything possible not only to satisfy these important customers, but to inspire them to return for future business flights."
*Source:Roy Morgan Single Source (Australia), May 2011 – July 2013, average quarterly sample n = 1,985.