Virgin Australia has become the second Aussie airline in a week to announce a major deal with an Asian carrier, following the signing of a landmark agreement with Singapore Airlines.
BY JAMES WILKINSON
Virgin Australia has become the second Aussie airline in a week to announce a major deal with an Asian carrier, following the signing of a landmark agreement with Singapore Airlines just a day after Qantas sponsored Malaysia Airlines' entry into the Oneworld alliance.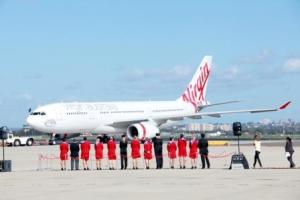 A Virgin Australia Airbus A330
Virgin Australia's deal with Singapore Airlines is a major coup for the former low-cost carrier, with the codesharing, sales, marketing and distribution agreement set to bring significant business to the airline's Australasia, South East Asia and South Pacific network.
While a formal application is yet to be submitted to the ACCC, it is proposed that Virgin Australia's code will appear on flights to 70 more destinations via the Singapore Airlines network and in reverse, Singapore Airlines customers will have access to 30 more destinations throughout the Virgin Australia, V Australia, Pacific Blue and Polynesian Blue networks.
The deal comes just after weeks Singapore Airlines granted the former Virgin Blue Group of Airlines the rights to use the Virgin Australia name on international flights.
When Virgin Blue was first formed in 2000, Singapore Airlines, which owns 49% of Virgin Atlantic (and Sir Richard Branson the remaining 51%), allowed the start-up to only use the Virgin name on flights within Australia, hence the reason Pacific Blue has been used on flights to New Zealand, Indonesia, Thailand, Papua New Guinea, Fiji, Samoa, Tonga, Vanuatu and the Cook Islands.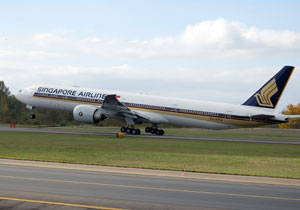 A Singapore Airlines Boeing 777
Singapore Airlines CEO Goh Choon Phong said he was particularly excited about the benefits the new partnership would bring.
"Singapore Airlines has been committed to the Australian market for more than 40 years and we are always looking for ways to serve our customers better," he said.
"With regulatory approval, the partnership will enable us to offer even more choice for domestic and international air travel.
"Together with Virgin Australia we will provide the public with access to an enlarged network, offering a first-rate, integrated travel experience.
"The partnership presents a significant opportunity for Singapore Airlines to drive growth in a manner consistent with our focus on service excellence, product innovation and network connectivity.
"It will enhance the attractiveness of Australia as a travel destination while also opening up new horizons for travellers from Australia," he said.
The agreement also provides reciprocal frequent flyer programme benefits and lounge access for members of both Krisworld (Singapore Airlines) and Velocity Rewards (Virgin Australia), and the co-ordination of schedules between Singapore and Australia and beyond on both carriers' networks.
Virgin Australia group of airlines CEO John Borghetti said he was "delighted to be partnering with one of the most respected and innovative airlines in the world".
"When it first launched in Australia, Singapore Airlines revolutionised international air travel for Australians, providing a world class service to Asia, Europe and beyond," he said.
"Asia is clearly a critical market for us as we build our international alliance network. Singapore Airlines' extensive network throughout Asia will be particularly attractive to our international business and leisure travellers and this partnership, along with our other alliances, will mean Virgin Australia can now offer truly global flight coverage.
"With the recent re-positioning of our brand and the launch of our product enhancements, including domestic business class, Virgin Australia and Singapore Airlines are ideally suited as airline partners."
The new partnership comes alongside alliances with Air New Zealand, Etihad Airways, Virgin America and Virgin Atlantic, while the airline is awaiting approval on a proposed deal with Delta Air Lines on trans-Pacific flights.