Tourism Australia's new managing director Andrew McEvoy said a range of tourism recovery campaigns in leisure and business travel announced would be part of the industry's return to growth in 2010 and beyond.
Tourism Australia's new managing director Andrew McEvoy said a range of tourism recovery campaigns in leisure and business travel announced would be part of the industry's return to growth in 2010 and beyond.
McEvoy said the stimulus campaigns, which were announced by Tourism Minister Martin Ferguson recently would assist Australian tourism in reversing the one per cent decline in international visitors in 2009, by taking advantage of new opportunities in key markets.
"Last year Australia was one of the best performers in the international tourism market, despite the difficult economic conditions in our source markets and Swine Flu," McEvoy said.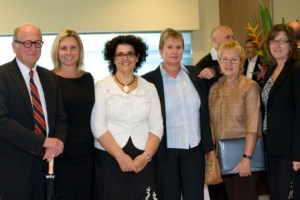 Pictured L to R is Mike Cannon, AACB; Sasha Sherman, Qantas; Joyce DiMascio, Business Events Australia, Tourism Australia; Lyn Fairbrass, NT Convention Bureau; Elizabeth Rich, Business Events Council Australia; and Lyn Lewis Smith, Business Events Sydney.
"This result is testament to the hard work of our industry and the resilience of the tourism sector, which is often affected by external shocks but continues to bounce back relatively quickly.
"Over the coming months Tourism Australia looks forward to delivering around 62 separate additional tourism marketing projects with 20 partners in 13 markets.
"The recovery effort will also include activity to stimulate the important business events sector and domestic business travel, which was hard hit last year.
"We will also be initiating 24 charter flights to bring an additional 7,000 tourists to Australia from Greater China and Japan during the peak travel times of February and March," he said.
International campaigns will run in New Zealand, China, Hong Kong, Japan, India, Singapore, Malaysia, Indonesia, and the Gulf region, where consumer confidence to travel is improving.
The recovery campaigns are to be funded with the $9 million announced by the Australian Government last year and matched by industry contributions, to deliver a total package of around $20 million. This includes $2 million worth of activity for the business events sector.
Since the Minister's announcement of the additional $9 million in October Tourism Australia has received 133 individual proposals from across the tourism industry, highlighting industry's keenness to work together to grow tourism this year.
McEvoy said he expected that competition between destinations was likely to be tough this year as countries around the world look to rebuild their tourism businesses.
"Many destinations around the world will no doubt be adopting aggressive marketing tactics this year as they look to recover from the global downturn in tourism last year."
"While Australia managed to hold its own in the tough climate of 2009, we need to remain competitive with our activities and urge potential travellers to visit Australia now.
"The comprehensive suite of recovery activities planned over the coming months are designed to do just that – get travellers to book now for their Australian holiday or business trip," he said.
Summary of the recovery campaign activity, which will run through to 30 June 2010:
Business Events:
Tourism Australia will partner with the Australian business events sector to deliver a $2 million program of initiatives designed to stimulate domestic business events travel, including regional business events travel, and boosting the number of delegates at events being held in Australia.
Japan:
Tourism Australia will invest in a total of 11 projects with five State Tourism Organisation and Regional Tourism Office partners and airline partners Jetstar, Qantas, Continental Airlines and Singapore Airlines. These projects aim to increase noise for Australia, improve access and highlight more reasons to visit Australia to drive actual travel bookings in the coming months.
New Zealand:
Tourism Australia will invest in 12 projects with nine State Tourism Organisation and Regional Tourism Office partners, four airline partners and Flight Centre. These projects will take advantage of Australia's close proximity, leverage opportunities in the short break market, reposition some destinations and generate greater exposure for Australian tourism products.
China:
Tourism Australia will invest in nine tactical marketing projects in partnership with six State Tourism Organisation and Regional Tourism Office partners and two airlines. Activities will focus on boosting China's large group market traffic, developing the emerging Free Independent Traveller (FIT) market, and repositioning Australian destinations through single and dual-destination projects. In addition, for the 2010 Shanghai World Expo one of the key projects will be to enhance Australia's high profile presence by partnering with one of the Australian Pavilion's major sponsors, Qantas, for a major consumer promotion.
Malaysia:
Tourism Australia will invest in six projects with six State Tourism Organisations and Regional Tourism Office partners, Malaysian Airlines and Air Asia X to take advantage of the current strong interest in Australia by increasing overall noise for the destination in the market.
Singapore, Korea, Taiwan, India, Indonesia and Gulf:
Tourism Australia plans to implement Pan-Asia campaigns, which will be predominantly rolled out in digital media.
Charter Flights:
In partnership with 13 travel agencies, two State Tourism Organisations and one Regional Tourism Office, Tourism Australia will provide marketing support for 24 charters and supplementary services from China (Beijing, Hong Kong, Guangzhou and Shenzhen) and Japan. The charters will provide over 7,000 additional seats into Australia, with more than 5,000 of which are directly into Cairns.
Thirteen projects are under consideration with $1 million to be contributed by Tourism Australia and matched with a $1 million contribution by the Convention Bureaux and State Tourism Organisations. A number of major business conventions, which are scheduled for Sydney, Melbourne, Brisbane, Adelaide, and Canberra are being considered for delegate boosting support. Proposed campaigns with both Victoria and New South Wales will promote regional meeting destinations while Cairns and the Great Barrier Reef has proposed a "Business Booster" campaign with retail offers.
Perth, the Northern Territory, Whitsundays and Tasmania are proposing a range of tactical and educational programs. Tourism Australia has received a broad range of Expressions of Interest, which are currently being developed with partners and the Business Events Australia unit at Tourism Australia.