In a special report, Anthony Healey looks at how Orion Expeditions is winning over the MICE market.
By Anthony Healey in Darwin
The cruise industry started in 1811 when New York's Black Ball Line shipping company sold passenger tickets from America to England. And the cruising craze didn't take long to become a must-do for the wealthy on both sides of the Atlantic.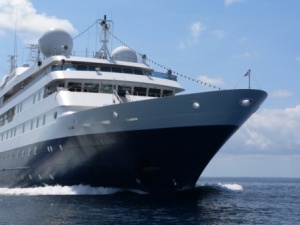 Popular with groups: Orion Expeditions
Now, almost 200 years on, in the golden age of ocean travel, rival companies are constructing giant floating cities to cash in and keep up with the global demand for luxury cruises.
A great deal of new business for these liners comes from the corporate world and there is ever increasing demand for manufacturers, promoters, car companies and the like to launch or present their product in a unique environment. One that has the sausage, and the sizzle.
Cunard's Queen Mary II, christened in 2004, was for a short time the largest, longest, tallest, widest and most expensive ship ever launched houses 2600 passengers and 1600 crew, has 14 decks, five swimming pools, 15 restaurants and bars, a casino and a 500-seat lecture hall with all mod cons.
Not to be outdone, the Royal Caribbean Line's Genesis, the world's largest cruise liner, can accommodate 5400 passengers and 2000 crew, weighs 220,000 tons (Titanic was 46,000), has 18 decks, 1800 cabins, casino, three level restaurant, nine hole mini golf course, massive gymnasium, basketball court, skating rink and even a wave-generated pool for surfing and body boarding and conference halls and theatres larger than many five star hotels.
Ah, but as American writer William Vaughan noted "size isn't everything. The whale is endangered, while the ant continues to do just fine".
Enter MV Orion. At just 103 metres this minnow of a ship is not your typical cruise ship. It accommodates just 106 guests in stylishly appointed that are fitted with lounge areas, marble en suite, flat screen TV, DVD/CD. There's a dinky gym, library, beauty spa, jacuzzi and boutique.
In recent years the worldwide boom in expedition cruises, a hybrid of luxury and adventure cruising has seen Orion operate a range of cruises journeying to places that larger vessels cannot.
As a crew ship it has few peers but it is Orion's creative itineraries that are offering a true point-of difference that has become most appealing for conference and event planners.
"Right now Orion operates strikes daily rates for private charters and this represents up to 25-30 per cent of our business each year," says Orion's sales and marketing manager, Chris Perkins. "On our scheduled cruises we often take corporate groups of up to 30.
"Our conference hall seats 100, has state-of-the art visual and audio facilities and break-out rooms.
"We are planning to get another ship, around the same size as Orion, and will be looking for 40-50 per cent in commercial charter work a year.
"We have found there is great demand for work and play travel to the Kimberley, Southeast Asia, Papua New Guinea, the Solomon Islands, Tasmania, New Zealand and with its ice-reinforced hull, passages to the Antarctic are also popular for corporate cruising," he said.
For the record Cruise Passenger magazine readers have voted Orion Best Small Ship (under 500 pax) for the fourth year in a row and Best Adventure Cruise Ship for the third year running.
To find out more check out Orion Expedition Cruises 2010 Calendar of Sailing, www.orionexpeditions.com or call 1300 361 012