The Australian and Victorian Governments last week announced $300,000 in funding to promote Victoria's regional areas as prime locations for conferences and business events.
The Australian and Victorian Governments last week (7 May) announced $300,000 in funding to promote Victoria's regional areas as prime locations for conferences and business events.
Australian Minister for Tourism, Martin Ferguson AM MP and Victorian Tourism and Major Events Minister, Tim Holding MP announced the funding as part of the Australian Government's $2 million support package for the business events sector in Australia.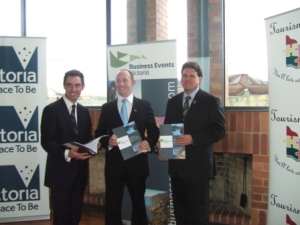 Victorian Minister for Tourism, the Hon Tim Holding, Business Events Victoria Chairman Andrew Hiebl, Member of Parliament for Seymour, Ben Hardman at the official annnoucnement last week
Victoria has received $150,000 from the Australian Government and has matched this contribution through Tourism Victoria, the Melbourne Convention and Visitors Bureau and the local tourism industry.
"We are pleased to provide this funding for Victoria's regional areas which are showing remarkable resilience in the face of difficult trading conditions," said Minister Ferguson. "2009 was an extraordinarily difficult year for the State with the February bushfires, which were Australia's worst ever national disaster, swine flu and the Global Financial Crisis.
"The practical support that we're providing is what's needed to help drive visitation and encourage organisations to consider holding their next event in a regional area," he added.
Minister Holding said the funding package will include print and online advertising, an extensive PR campaign and support for businesses to attend trade shows.
"In addition to this, Tourism Victoria has offered funding directly to a number of regions to promote their own venues and experiences. Victoria's regions have so much to offer. Many are within a few hours drive of Melbourne and they all offer fantastic conference and events facilities, great food and wine and lots of activities for delegates to enjoy as part of their event," he said.
"Amongst stunning backdrops, business event visitors will find professional and friendly service, unique and cost effective venues and interesting pre and post touring activities.
"By choosing regional Victoria for their next event, organisations will be providing a valuable boost to regional tourism operators which has important flow-on benefits for the whole local area.
At Rochford Wines today, Holding also launched the Regional Victoria Planner's Guide 2010-2011, a comprehensive tool to help organisations plan their next event in one of Victoria's 10 stunning regions.
"This Guide, which is produced by Business Events Victoria, provides a wealth of information about the diverse conference and events facilities in our State," Holding said.
"It also showcases the great food and wine and amazing regional experiences delegates can enjoy as part of their industry event.
"The Brumby Labor Government is proud to be providing $20,000 towards this Guide, which is a really practical tool for growing regional Victoria's share of the meetings, conference and events market.
The business events industry is worth $1.2 billion annually for the Victorian economy and creates approximately 22,000 jobs.