A needed boost has arrived for Sydney with the NSW Government's announcement yesterday of a $1 million masterplan to increase convention and exhibition space at Darling Harbour.
By Gwen O'Toole
A needed boost has arrived for Sydney with the NSW Government's announcement yesterday (May 5) of a $1 million masterplan to increase convention and exhibition space at Darling Harbour.
Premier Kristina Kenneally's announcement has been met with much enthusiasm to proceed with a master plan upgrading and expand conference and exhibition facilities at Darling Harbour and Olympic Park.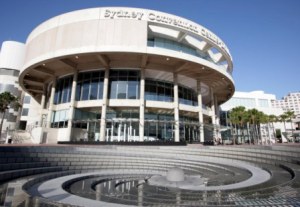 The Sydney Convention and Exhibition Centre is just one of the venues the NSW Governement is focussing on

"By increasing the size of the Sydney Convention and Exhibition Centre we'll be able to meet the increasing demand from associations and conference organisers wanting to hold their meetings in Sydney, Australia's leading business events city," said Centre Chief Executive Ton van Amerongen, adding that the expansion would also allow for existing events to grow in size.
"It would be a great result for Sydney, delivering significant economic benefit and employment," he said.
The NSW Government has charged the Sydney Harbour Foreshore Authority with responsibility for delivering the plan for expansions as well as the refurbishment of the Sydney Entertainment Centre and the integration of new facilities with the Barangaroo Project.
Business Events Sydney (BESydney) has also welcomed the announcement with CEO Jon Hutchison, calling it "an important day for the business events industry in Sydney and New South Wales.
"Global competition for business events is extremely fierce which is why it's important for Sydney to demonstrate its commitment as a leading and long-term destination for business events," he said.
"When plans are completed and a building timetable is in place, BESydney will take the new complexes to the world and in return, attract business delegates to local shores.
"As the organisation charged with the responsibility of bidding for, and securing, these events for Sydney, BESydney believes the Premier's plans will aid the city in a competitive global market."
Hutchison added that 105 events have already been secured until 2017 representing an estimated $638 million for the city. "But with better facilities, we can win even more business," he said.
BESydney also announce another win, having yesterday confirmed a $17 million event for 4,200 business delegates.
Some of the biggest events secured by BESydney for the coming months and year include the Lions Club International Convention in July, which forecasts to have 20,000 delegates in Sydney.
Amway China has also chosen Sydney to host their corporate incentive event for 15,000 delegates which will take place in 2011.
"Business events deliver more than economic value and jobs for the city. They offer Australia a chance to lead international debate across a range of scientific, medical and innovative industries," said Hutchison.
The Tourism & Transport Forum (TTF) also expressed a public statement yesterday supporting the developments calling it "an important step in the bid for Sydney to reclaim its status as the nation's business events capital."
TTF managing director Christopher Brown said the announcement shows the NSW Government is "serious about positioning Sydney as the destination of choice for business events."
"Planning for these events happens years in advance, so if Sydney wants to be able to bid for major events in the future and keep up with the competition, both at home and abroad, we need to get on with expanding our convention and exhibition space."
He added that the government has delivered on a promise, and expressed thanks to the Premier, Treasurer, Tourism Minister Jodi McKay, Minister for Major Events Ian Macdonald and Planning Minister Tony Kelly for their commitment to the project.
"NSW has been losing around $218 million dollars a year in Gross State Product and 3,037 jobs because of limited convention and exhibition space.," he said. "We now have commitments from both sides of NSW politics, which is great news for the events sector."