Europeans are being targeted in the latest tourism campaign from Etihad Airways to help boost traveller numbers to NSW
By James Wilkinson
Europeans are being targeted in the latest tourism campaign from Etihad Airways to help boost traveller numbers to NSW.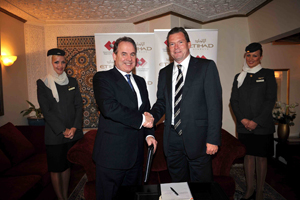 Etihad CEO James Hogan and NSW premier Nathan Rees
During a three-day trade mission to the Middle East earlier this week, NSW premier Nathan Rees signed an agreement for a joint campaign with Abu Dhabi-based Etihad Airways to market both Sydney and the state.
"Etihad Airways and Tourism NSW have been working together to promote NSW as the gateway to Australia in the Middle East and key European markets," Rees said.
"We are aggressively targeting European tourism and overseas business travellers in a bid to boost NSW tourism and jobs.
"Australia is becoming a popular holiday destination from the UAE and we are keen to continue working with the airline to boost NSW's profile," he said.
The joint campaign includes online marketing, outdoor and radio ads and online social networking to tourism markets in the United Kingdom, Ireland, Italy, Germany and France. It will also see NSW icons such as the Sydney Harbour Bridge will appear on buses as part of creative campaigns to target strong youth markets in many countries.
Etihad began flying to Sydney in 2007 and currently schedules 11 flights a week from Abu Dhabi – alongside flights to both Brisbane and Melbourne.
Etihad Airways CEO James Hogan said the airline was excited about working with the NSW government on the marketing program.
"Sydney continues to be a major destination for Etihad and we look forward to working with the NSW government in the future," he said.