The new relationship will better connect the region to the global community of exhibition industry professional. More details here.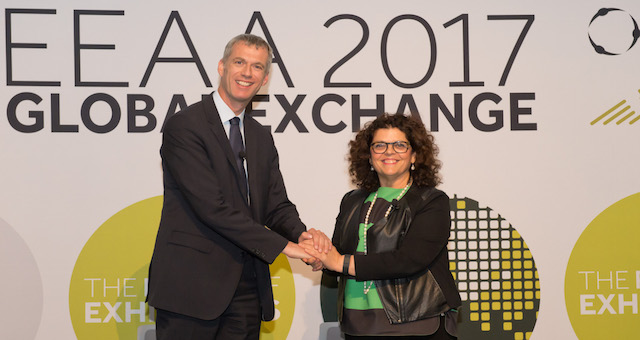 UFI, the Global Association of the Exhibition Industry and EEAA, the Exhibition and Event Association will strengthen their existing collaboration to create additional value for the exhibition industry in Australasia, and to connect that region better to the global community of exhibition industry professional.
Kai Hattendorf, UFI's Managing Director/CEO welcomed the extended cooperation, commenting that "It is UFI's mission to connect and serve the exhibition industry globally. Our collaboration with the EEAA will allow both our associations to do this more efficiently."
"We will collaborate on research, education, talent development, and peer to peer exchanges – working to connect industry professionals from Australia with the industry in Asia and globally."
Joyce DiMascio, Chief Executive, Exhibition and Event Association of Australasia (EEAA) added that she was "delighted to formalise a stronger partnership with UFI and deepen our engagement with the global event industry".
"The exchange of the MoU today opens up the way for closer collaboration between our two organisations. There is a strong alignment between our associations — we both share a commitment to supporting and developing the business opportunities of our members and advocating for the value of the sector to government and the broader business community — and I look forward to working more closely with UFI for the benefit of our respective organisations and the members we serve."
UFI serves more than 270 industry members in Asia-Pacific through the association's regional office in Hong Kong, representing tens of thousands of exhibition industry professionals.
UFI's latest research on the development of the exhibition industry in Asia Pacific showed Australia's trade fair industry grew by 3.1% in 2016.
Concerning future growth, Mark Cochrane, UFI's regional Manager for Asia/Pacific commented: "We predict faster growth for the Australian exhibition market in the coming years. In 2017, Australia's economy is forecast to grow by 3.1%. The Australian trade fair market, however, should outperform the broader economy following the opening of the new venue, ICC Sydney in December 2016."
"In addition, the Melbourne Convention & Exhibition Centre is scheduled complete work on its expansion project in 2018 adding 20,000 m2 of event space. Those two investments in vital venue infrastructure should result in stronger growth rates over the next two to three years."