James Wilkinson looks at how Air New Zealand is winning over the long-haul traveller with its revolutionary new Premium Economy cabin.
BY JAMES WILKINSON
It's no surprise that Air New Zealand continues to revolutionise long-haul air travel, given that after all, New Zealand really is at the end of the world. But when the carrier debuted its new Premium Economy and 'Cuddle' classes earlier this year, they took the aviation world by storm for creating two styles of product not seen in the market before.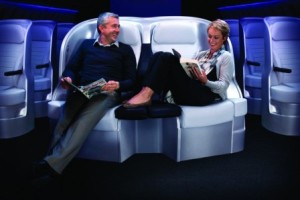 Air New Zealand's new long haul premium economy
Dubbed Cuddle Class, the Kiwi-designed Skycouch enables three economy class seats to be turned into a mini-bed, comfortably sleeping two passengers, and is one of several industry-leading initiatives to be introduced on the airline's new long-haul Boeing 777-300ER aircraft.
When the new Boeing aircraft was introduced in April on flights from Auckland to Los Angeles and London, Air New Zealand also debuted a new version of Premium Economy that's the most advanced in the sky, offering seats, entertainment and service that put many other airlines' Business Class offering to shame.
Air New Zealand Chief Executive Officer Rob Fyfe says the Boeing 777-300ER aircraft – which are configured with 244 in Economy (including 60 seats creating 20 Skycouch combinations), 50 in Premium Economy and 44 in Business Premier – was a 'game changer' for the airline.
"Four long years of planning and design (went in) to create an absolute world-first interior and passenger experience," he says.
While Cuddle Class has stolen most of the headlines for the airline, it is Premium Economy that's the stand-out product on the new Boeing 777-300ER. The new 'Spaceseats' feature greater comfort, significantly more personal space – where no shoulder touching is involved – and larger 10.6-inch touch-screen televisions compared to the existing Premium Economy offering.
"The majority of our long-haul flights are overnight and we fly on average 90 minutes longer than any other airline," says Air New Zealand's Group General Manager International Airline, Ed Sims. "That's why we set out to overcome the seemingly impossible challenge of finding a way for people to lie down in economy without compromising affordability.
"Few airlines have invested time and money beyond First Class, whereas we have focused on the areas where most of our passengers sit by reinventing every aspect of our Economy and Premium Economy customer experience.
"We've created the world's first economy seating that enables people to lie down and a Premium Economy seat that many airlines would call Business Class," he says.
The airline also created a special bistro-style menu for Premium Economy thanks to the introduction of induction ovens, whereby a steak can be cooked to a passenger's liking, alongside a ramping-up of the wine menu, which features a number of New Zealand's award-winning Sauvignon Blanc, Pinot Noir and Shiraz varietal wines.
"We're also the first commercial airline to introduce induction ovens for all cabins to give our customers freshly prepared food and have developed an in-flight entertainment (IFE) system to give people greater control over the way their journey will unfold," Sims says.
When you add full-sized pillows, polar fleece blankets and foot cushions in place of foot rests, it's not hard to see why this cabin offers better value and comfort than some other Business Classes on competing routes in the sky.
It seems passengers from across the world also approve, with Air New Zealand winning gongs for the 'World's Best Premium Economy Class Airline' and the 'World's Best Premium Economy Class Airline Catering' alongside 'Best Airline Australia / Pacific' at the 2011 Skytrax World Airline Awards at the Paris Air Show.
To put the Skytrax World Airline Awards in perspective, they are voted on by over 18.8 million airline passengers from 100 different countries. In any language, that's a big deal.