Kicking off 21 March at MCEC, the AIME Knowledge Program will feature a curated mix of keynote and breakout sessions.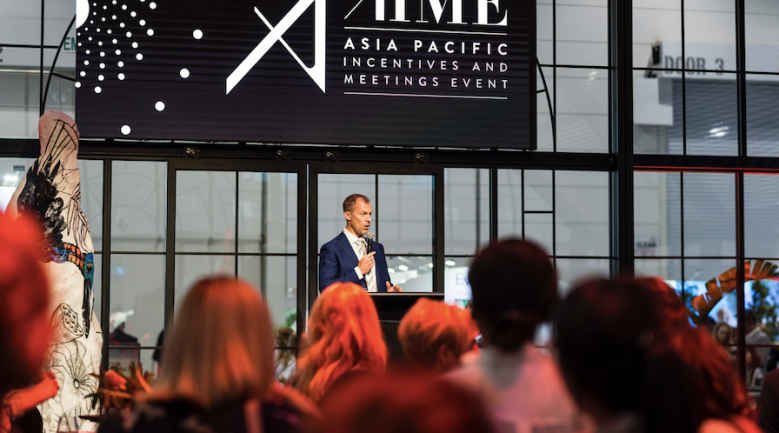 Asia Pacific Incentives and Meetings Event (AIME), has revealed the world-class speaker lineup and official themes for its 2022 Knowledge Program, which will commence in person Monday 21 March at Melbourne Convention and Exhibition Centre (MCEC).
Delivered in partnership with Professional Convention Management Association (PCMA) and Meetings & Events Australia (MEA), the AIME Knowledge Program is a curated mix of keynote and breakout sessions.
The three core themes behind this year's program are Business Innovation, Driving Engagement and Human Connection organised by PCMA, and Fostering Collaboration by MEA.
The program will be hosted by respected Australian broadcast journalist Mimi Kwa, with confirmed speakers including ​​Simon Griffiths and Steve Sammartino.
Griffiths is the co-founder and chief executive officer of Who Gives A Crap, a profit-for-purpose toilet paper company that uses 50 percent of its profits to build toilets in the developing world. Sammartino is Australia's leading futurist, tech entrepreneur, growth hacker and the host of Channel 9 program The Rebound.
Sammartino said he is most looking forward to sharing his expertise on how to lead and succeed despite the uncertainty of the pandemic.
"The past 23 months have led to dramatic shifts in the way organisations operate. In a climate of constant disruptions, effective leaders have to embrace and thrive within uncertainty, possessing the foresight to transform their organisation to capitalise on new business growth," Sammartino said.
"I hope those attending AIME will come out of the Knowledge Program with actionable insights that will help them take their business to the next level."
AIME event director Silke Calder said that AIME's top priority is to put on a quality and thought-provoking show, especially when it comes to the Knowledge Program.
"This year is no exception – our line-up of speakers will undoubtedly excite and motivate attendees," Calder said.
"With innovators and thought leaders from a myriad of industries sharing their insights firsthand, attendees are encouraged to actively participate in the breakout sessions and get the most out of our speakers' brilliant minds."
PCMA managing director (APAC) Florence Chua said PCMA was excited to partner with AIME in curating the program.
"The Knowledge Program will deliver a balance of future-ready thinking, priceless peer-sharing and focused discussions around business and social responsibility of our community," Chua said.
"I am cautiously optimistic we, as an industry, are ready to build momentum for 2022. Our time is now."
The Knowledge Program will commence at AIME on Monday 21 March and continue with the Ideas Academy on Tuesday 22 and Wednesday 23 March.