The 88-room boutique hotel is conveniently located to ICC Sydney, making it an ideal accommodation option for the venue's events attendees.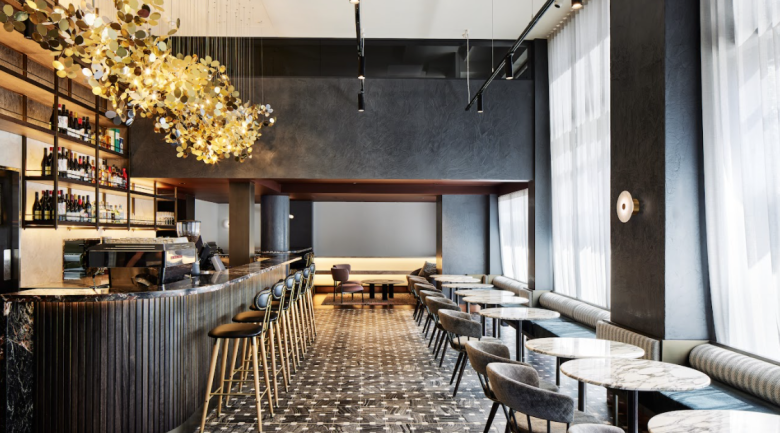 Wayfarer's Bar & Café at Aiden Darling Harbour.
Sydney has welcomed its newest boutique hotel with the opening of Best Western's Aiden Darling Harbour.
Housed within a restored 1930s Art Deco building on Pyrmont's Murray Street, the hotel is within minutes' walking distance to Darling Harbour's famed attractions, shopping and dining precincts, The Star Sydney, and ICC Sydney.
Inspired by the people, food and history of its local neighbourhood, the interior design of the eight-storey hotel draws on the textures, shapes and colours of the surrounding area, featuring locally made furnishings such as plush blue velvet bedheads, a 200-piece sculptural light in the lobby emulating sunlight through leaves, and vibrant murals hand-painted by artist in residence, Jessica Le Clerc.
The 88-room hotel has opened with 42 guest rooms, with an additional 46 opening from April 2022, including several with private open-air balconies.
While it does not have dedicated meetings and events facilities of its own, Aiden Darling Harbour is a 10-minute walk to ICC Sydney, making it a convenient accommodation option for events attendees at the venue.
Additionally, the hotel's Wayfarer's Bar & Café in the ground floor lobby can host groups of up to 40 people for drinks.
Exclusive guest experiences and special offers can also be arranged thanks to the hotel's strong relationships with its local neighbours including Local Sauce walking tour company and private luxury sailing operator, Sydney By Sail.