Martin Radcliffe will bring more than 23 years' experience in the global MICE and hospitality sectors when he commences his new role in May.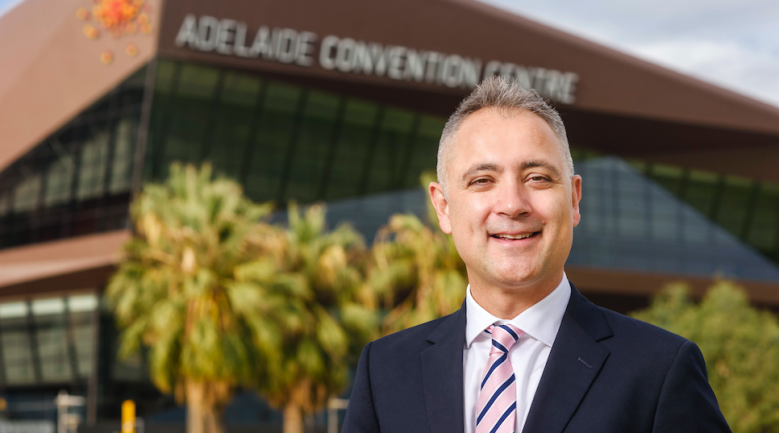 Martin Radcliffe.
Adelaide Venue Management has announced Martin Radcliffe will join Adelaide Convention Centre as general manager in May.
With more than 23 years' national and international experience in the global MICE and hospitality industries to the role, Radcliffe has held senior leadership positions at some of Adelaide's leading hotels as well as with the Adelaide Convention Bureau (ACB).
During his almost eight-year tenure as ACB director of sales and marketing, Radcliffe was responsible for attracting major international and domestic business events to South Australia, achieving a then record year in the Bureau's 40-year history in terms of economic benefit delivered to the State. His role also saw him actively support the Australian business events sector through contributions to various national business events forums, led by the likes of Business Events Australia and the Australian Association of Convention Bureaux.
Adelaide Venue Management chief executive officer Anthony Kirchner said that Radcliffe's vast experience and networks across the global business events and hospitality industries make him uniquely qualified to lead the venue as it looks to recover from the COVID-19 pandemic.
"Martin has overcome a highly credentialed field of international candidates to win the Adelaide Convention Centre General Manager role," Kirchner said.
"With his impressive background in business events sales at the Adelaide Convention Bureau and senior hospitality experience at some of Adelaide's leading hotels, he's the perfect fit for this important leadership position, and will be a fantastic ambassador for South Australia and the Adelaide Convention Centre both nationally and internationally."
Radcliffe's past experience also includes five years as general manager at The Mayfair Hotel, where, under his leadership, the hotel was awarded 'Best Australian 5-Star Hotel' on multiple occasions, while he himself was judged a finalist in 'GM of the Year' in the 2019 HM Awards.
In addition, he has held various senior commercial roles with a major convention hotel and portfolio of large business centres across the UK. Most recently he has been running a successful business consultancy, and is currently serving as chairperson of Adelaide Hills Tourism.
Delighted to commence his new role, Radcliffe said the iconic and progressive venue was closely aligned to his own passions, skills, experience and networks.
"I believe this is the perfect time to be commencing this role," Radcliffe said.
"Following the pandemic, business events and hospitality markets, both here in Australia and internationally, have certainly re-energised and re-calibrated, and I look forward to working with the Adelaide Convention Centre team to maximise opportunities and deliver exceptional event experiences for our clients."