The hotel giant will employ more female general managers across its portfolio.
Angela Brown, executive chef, Raffles Grand Hotel d'Angkor
Amidst the global movement towards gender balance, Accor has made a bold commitment to employ 50 per cent female general managers across its hotels.
The group will start with a goal to have at least 35 per cent female general managers by 2020, with a longer-term goal of 50 per cent.
Currently, out of Accor's 300,000 employees worldwide, 29 per cent of general managers and 42 per cent of heads of department are female.
The group has also set solid objectives to promote equal pay. By 2020, Accor aims to achieve equal pay for employees in France, Spain, Brazil and Australia, with a longer-term goal to achieve equal pay across the entire organisation.
Christine Rumble, chief talent and culture officer at Accor Asia Pacific said there are still many obstacles to achieving gender balance.
"While we can commit to equality and parity as an organisation, sometimes change is slower than we would like due to cultural norms in some countries where women still face greater challenges," she said.
"We need all of society to recognise the enormous benefits when women are offered the same opportunities as men."
Women in the spotlight
To coincide with this announcement, Accor is showcasing five female employees making a difference in the hospitality industry:
Lisa Sanjoyo, general manager, Mercure Jakarta Cikini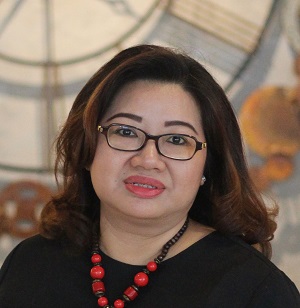 Having been with Accor since 2004, Sanjoyo treasures the opportunities to develop her career and confidence for her in-depth involvement within the region. Having started in sale and marketing, Sanjoyo then applied for a position in Accor's National Management Trainee program which fast-tracks employees into general manager positions.
In addition to her General Manager duties, Sanjoyo is also the chairperson of A Trust For a Child, an Accor Indonesia initiative that takes care of children from disadvantaged backgrounds.
Angela Brown, executive chef, Raffles Grand Hotel d'Angkor
From her junior days at Sofitel Gold Coast as commis chef to her current role as executive chef at Raffles Grand Hotel d'Angkor, Brown has enjoyed numerous opportunities in Accor.
In a male-dominated industry, she was offered the chance to be the first chef from Asia to showcase her talents at The Bird Restaurant located within the Accor's head office in Paris. Being an F&B champion in Accor, Brown believes in giving back to the local community and ensure the hotel gives away leftover food to SOS Children's Villages of Cambodia on a daily basis.
Lucy Lu, general manager, Pullman Zhouzhang
The first female Pullman general manager in Greater China, Lu began her career with Accor in 1999. After being chosen for the Leadership in Motion program in 2017, Lu believes that it was a pivotal point in her career.
She learnt about leadership through sharing experiences with her colleagues across Asia Pacific and went through mentoring and training to prepare her as a general manager. There are now four female general in Pullman Greater China and Lu looks forward to welcoming more women to the network.
Gillian Millar, senior vice president operations, Accor New Zealand, Fiji & French Polynesia
In her role, Millar is responsible for 3000 staff and 50 hotels in the region. After almost eight years with Accor, she is grateful for the opportunity to sit at the table as part of Accor's Asia Pacific Executive Committee, contributing to the hospitality giant's overall strategy and vision.
Millar attributes the region's accomplishments to Accor's commitment to autonomy and understanding of the need for diverse thought. She encourages all women to be brave and grab any opportunity given to them.
Jacqueline Poey, hotel manager, Fairmont Singapore and Swissotel The Stamford
Poey first became the director of front office operations at the age of 28 and risen up to become the hotel manager of both properties, managing 2000 rooms, as well as a plethora of dining and spa establishments.
In 2019, she had the chance to attend the Leadership in Motion program, and despite being one of the most junior managers at the program, Poey was highly motivated and treasured the opportunity to grow beyond her role. Today, she also leads the corporate social responsibility team at her hotels.
Want more Spice in your life?
Subscribe to receive our quarterly print publication.