Tourism Australia's signature incentive product showcase, Dreamtime 2017, is taking place in Brisbane now.
Dreamtime is currently taking place at Brisbane Convention and Exhibition Centre
Tourism Australia's signature incentive product showcase, Dreamtime 2017, is taking place in Brisbane now.
Scheduled business sessions between 89 of Australia's business events industry and almost 100 international incentive planners and decision makers will uncover the latest incentive offerings from around Australia.
The two-day program includes networking events that bring to life Australia's event delivery capabilities and product showcases to help delegates discover Brisbane's creative incentive products and destination experiences.
Tourism Australia Managing Director John O'Sullivan said Dreamtime was the perfect opportunity to enhance the understanding of Australia's business event capabilities with incentive planners and key decision makers.
"We are excited to be bringing Dreamtime to Brisbane for 2017 to give international delegates a first-hand understanding of why there truly is nothing like Australia for business events," he said.
Dreamtime is designed to show incentive planners from around the world all that Brisbane has to offer for organisations who are seeking to encourage and reward high performance within their teams with the ultimate goal of achieving better business outcomes. Brisbane was selected to host Dreamtime 2017 at a time of major investment in infrastructure, hotel builds, new incentive products and experiences. The showcase is set to expand on the city's strong track record of hosting major international events, including the G20 Brisbane Summit, the World Science Festival Brisbane, and most recently the Rugby League World Cup 2017.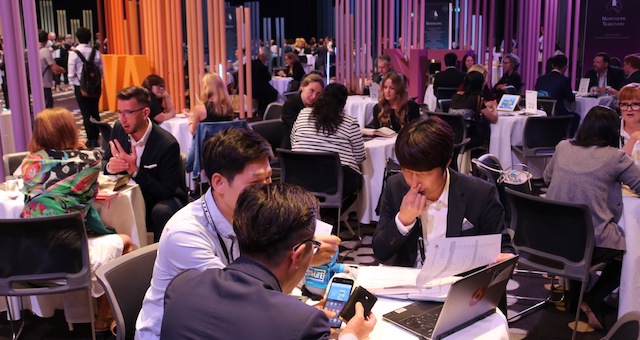 In her welcome speech, Tourism Australia's executive general manager events, Penny Lion, said, "Tourism Australia has had a longstanding focus on business events – in fact it was over 25 years ago that we held our first ever Dreamtime and we talk about our mission at Tourism Australia to be the most desirable and memorable destination on earth.
"And that applies to Dreamtime – at this event our absolute focus is keeping front of mind is how to best showcase our incredible incentive destinations.
"A lot of things have changed since that first Dreamtime 25 years ago, but Australia's appeal as an incentive destination has only grown stronger.
"This is however the first time that Dreamtime has been held in Brisbane and it is a really exciting time to do so. Brisbane already has a very well deserved reputation as a major event hub – it has already hosted the world science festival, the G20 and it has ust concluded the Rugby League World Cup. It also has a great reputation as a learning hub and research and technology hub. But with unprecedented infrastructure taking place in Brisbane, it couldn't be a better time to be here to experience it first hand. Brisbane is a fun, connected and creative city and we developed a program that introduces new products and experiences to showcase these attributes," she said.
Brisbane Marketing CEO Brett Fraser said, "A lot of work that we do in this space is not today but it is in a few years time – securing major business events and incentives groups in the future.
"The next five years will be the greatest times of change our city has ever seen and we are going to go through a significant change between now and 2022.
"I made the decision to come back to Brisbane, the decision to come back is about the lifestyle in Brisbane, offers the most unique combination of lifestyle and quality of life that is second to none.
"Over the next five years there is close to $10 billion worth of investment coming into the city in major projects and the majority of money s not from government spending – it is capital flowing in from the private sector. There is a $3.5 billion investment within the Queens Wharf project alone – a major urban renewal project for the CBD.
"That project will see the Ritz-Carlton hotel and Casino towers built similar to the Marina Bay Sands development in Singapore.
"It will generate approximately $1.5 billion worth of additional investment into our city from 2022 onwards. It is a significant driver of change in our city.
"It will also see tourism numbers – an additional 1.3 million tourists to our city alone from this project, so these are not insignificant projects and they will change the view of Brisbane and the visitation as well.
"Another project is Brisbane Quarter which will deliver the first W Hotel – again another major driver for visitation.
"There is $100 million worth of investment in a new cruising terminal as well.
"Howard Smith Wharves, which will open at the end of next year, will also have an Art Series Hotel as part of that redevelopment project on the riverfront of Brisbane.
"The Brisbane airport is doubling in capacity with another $1.35 billion invested and will see it exceed Singapore and Hong Kong in capacity by 2022.
"They are some of the major changes that you will be seeing – but what we are really focused on though is where Brisbane is really unique is its warmth and not just warmth of climate, but warmth of people. We are focused over the next five years as the city redevelops that we don't lose that warmth," he said.