The Terrace Hotel, Perth's newest luxury boutique hotel is set to officially open its doors and launch on the West End of St George's Terrace on 1 November 2012.
The Terrace Hotel, Perth's newest luxury boutique hotel is set to officially open its doors and launch on the West End of St George's Terrace in Perth's thriving CBD on the first day of November 2012.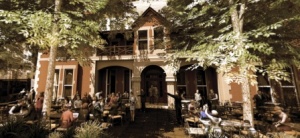 The rebuilt heritage listed hotel is scheduled to open on November 1 in Perth's CBD.

Rebuilt to accommodate a uniquely sophisticated hotel which retains its art deco charm, the Heritage-listed St George's House has been re-designed to satisfy the most discerning of guests and opens with much anticipation as WA continues to boast the strongest economy in Australia and is poised for further rapid development.
WA continues to experience strong demand for commodities and tourism from world markets particularly China, India and Japan and as a result of this demand, there is a serious undersupply of hotel rooms in the CBD. The hotel is a stone's throw away from the luxurious designer boutiques located on King Street which include Chanel, Tiffany & Co, Louis Vuitton, Kailis Jewellery, Gucci and Prada.
This new boutique hotel is spread over four floors and behind its stunning federation façade, houses 15 rooms including a Premier suite with a private dining room for eight.
The design of The Terrace Hotel evokes the Great Gatsby era of the 1920s with restored jarrah staircases, crystal chandeliers, fireplaces, Victorian and Edwardian furnishings and luxurious finishings all in the heart of the CBD.
Executive Chef, Shannon Wilson, spent nearly 10 years in London working in several high-end restaurants such as The Botanist and The White Swan. During his time at Babylon, Shannon also worked as a private chef to Sir Richard Branson on Necker Island and Branson's private game reserve in South Africa. Shannon's approach to The Terrace Hotel's cuisine will reflect a true WA style using the finest WA produce and will be the perfect complement to entertaining features in the hotel such as The Sommeliers Tasting Room – a stunning location for team events and private functions.
The adjacent Wine Vault is a fully humidified and acclimatised space; the contents – 3000 carefully selected and guarded bottles – can be seen from St George's Terrace. The wine list reflects the highlights of each handpicked region and contains over 500 wines.
In addition, there are two private dining rooms available for special occasions or business functions. The spectacular front room has the original fireplace, restored, complemented by custom oak and mahogany table and chairs.
All Terrace Hotel rooms are furnished with modern amenities including iPads, Bang & Olufsen sound and television system, Apple TV and Foxtel IQ fully integrated for the guest's enjoyment. Complimentary WiFi access is available to all patrons and guests.
Perth day spa Endota Spa will provide guests with in-room services or guests can visit their CBD spa just a stone's throw away from the hotel. Award-winning salon Head Studio will also provide in-room hair services for guests.