The hotel's dining space has been overhauled with a major refurbishment and new dining concept combining fine dining with a buffet.
An exciting new 180-seat, multi-station and interactive dining concept is preparing to roll out at The Langham, Sydney, with opening day scheduled for 26 August 2019.
The project has seen the hotel's dining room extended and redesigned by Wilson Associates in Singapore, with the installation of brand new show kitchens which will involve guests in the dining experience.
An extensive array of dining tables, arranged in romantic, small group and sharing social set-ups will see groups of all sizes able to be catered. Two private dining rooms are also available for groups and special occasions.
Under the tutelage of Executive Chef Dave Whitting, the menu reflects a career brimming with expertise in international hotels and Michelin-starred restaurants. Delicacies from the seafood section have been supplied by the Sydney Fish Market and will include Sydney rock oysters, blue swimmer crabs, tiger prawns, local tuna, salmon, kingfish and lobster, among others.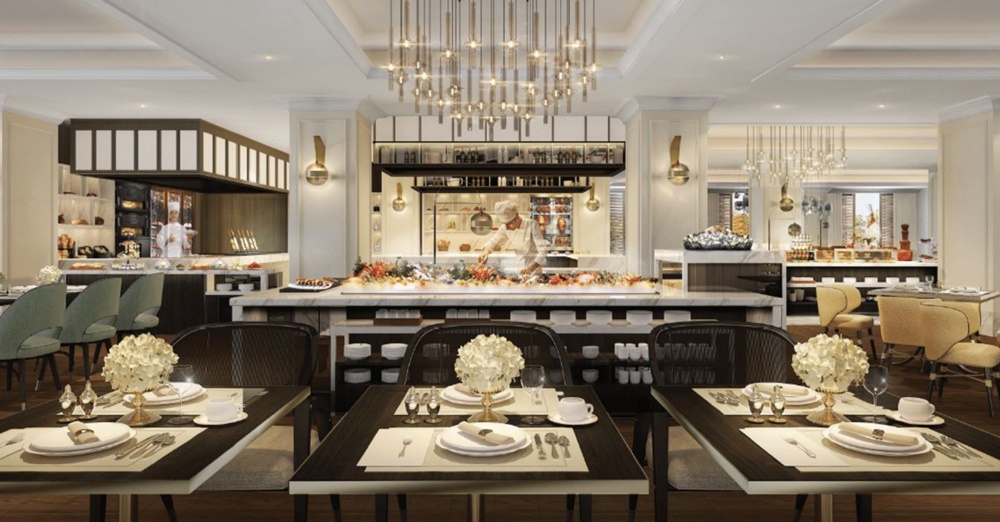 "We've proudly named this restaurant Kitchens on Kent as that's exactly what it is, here at The Langham on Kent Street," Whitting said.
"Sydney-siders and domestic and international diners are constantly becoming more experimental. Nowadays, everyone is a foodie, who not only loves fine-dining, but also enjoys choice and flexibility. It's hard to find both, but now they can, as I'm blending a luxurious à la carte menu with the buffet experience."
Each of the show kitchens will see diners taken on a culinary journey under the watch of a carefully selected team of expert chefs, all chosen personally by Whitting for their passion and creativity. Each chef will be putting together customisable, made-to-order dishes at each live cooking station.
Patrons will be able to interact with chefs while they work at stations including the Japanese sashimi bar, rotisserie spit, beech oven, Tandoor oven and Sydney's only Robata Grill which will serve up game meats cooked over smoky charcoals. There will also be a pasta station, carvery, charcuterie table as well as dessert bar and options for vegetarians, vegans and those with gluten intolerances.
Kids are not being left out of the mix either, with pizza-making classes and cupcake decorating on the agenda at scheduled times as well.