The new retreat offers luxury accommodation and up-close experiences with Australian wildlife.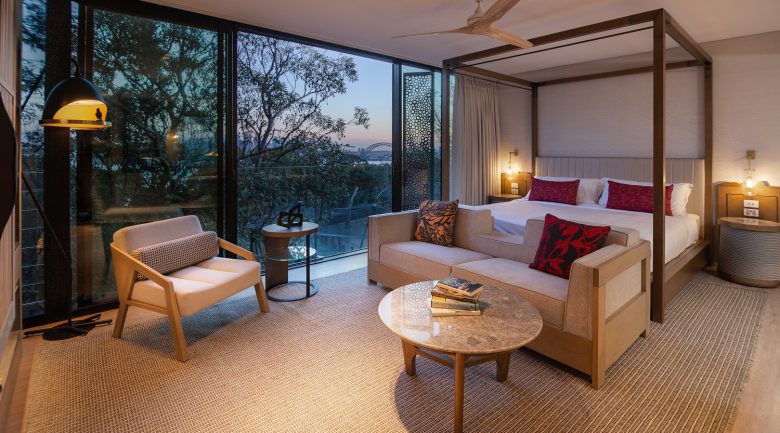 Wildlife Retreat at Taronga suite
Sydney's Taronga Zoo will unveil a brand new accommodation offering this October, when Wildlife Retreat at Taronga opens to guests.
The overnight eco retreat, built on Cammeraigal country, is nestled within the zoo precinct in Mosman, located on the edge of Sydney Harbour.
Designed by Cox Architecture, the retreat features five sustainably designed lodges, which together offer 62 rooms and suites that overlook the wildlife habitat and Sydney Harbour.
Open for bookings from 10 October, the Wildlife Retreat gives guests the opportunity to get up close with Australian wildlife, while supporting conservation projects at Taronga Zoo.
"For a zoo to remain relevant, it must constantly evolve," said Taronga Zoo CEO Cameron Kerr.
"Our new Wildlife Retreat at Taronga will deliver truly unique experiences to the people of Sydney, NSW, Australia and our international visitors.
"Through the Wildlife Retreat, we will foster genuine connections between people and Australia's fascinating wildlife, and inspire them to care as passionately as we do about our most precious residents.
"Guests will leave not only rejuvenated, but also with the knowledge that their stay has made a meaningful difference to wildlife and its conservation."
Food and beverage
Food and beverage will be integral to the Wildlife Retreat at Taronga experience, with a strong focus on local produce and native Australian ingredients.
The restaurant, Me-Gal, will offer an Australian menu alongside spectacular views of Sydney.
Conservation
Owned and operated by Taronga Conservation Society Australia, the Wildlife Retreat will contribute essential funding towards the care of Taronga's animals and broader conservation and education programs.
During their stay, guests can choose to join guided tours with keepers and guides, or simply connect with the wildlife and its habitat in their own time.
Want more Spice in your life? 
Subscribe to receive our quarterly print publication.