Sofitel Luxury Hotels has launched InspiredMeetings, which takes the art of meeting to a new level.
Sofitel Luxury Hotels has launched InspiredMeetings, which takes the art of meeting to a new level.
Combining a sophisticated software system with dedicated professional meeting staff and cutting edge technology, the end result delivers a meeting experience unlike any other.
Initially targeting the smaller meeting market (below 40 delegates) InspiredMeetings provides a luxury meeting experience from proposal to post event.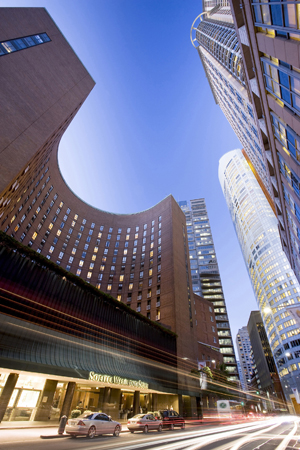 InspiredMeetings: Sofitel Sydney Wentworth
Supporting the sales process is a new conference and events organisational structure within the hotel. The drivers of this process are the InspiredMeetings Planner and the InspiredMeetings Concierge. This structure has been put in place as a response to market research that indicated meeting planners wanted a simple process with a minimum of hotel contacts. Pilot programs have shown this new structure delivers a faster, better experience, ensuring higher satisfaction levels and increased repeat business
Key to delivery of this new experience is the proposal management tool – a powerful web service that personalises and edits proposals, generating a dynamic proposal with agency quality pdf layouts.
All essential areas are covered – the meeting itself, technology, banqueting, entertainment, the guest room experience and additional services. From this new software, the hotel InspiredMeeting Planner has the benefit of a series of intuitive screen guides that ensure the quote proposal structure and its content is fully personalized for each client.
A variety of collateral has also been developed exclusively for InspiredMeetings, ranging from prestige notebooks, to luxury pens, to brochures – both hard copy and electronic. Luxurious leather desk blotters are a standard and clients can choose from a range of set up options and can then complement this with flowers, scents, lighting and more.
To celebrate the launch of InspiredMeetings, Sofitel luxury hotels are giving Meeting Planners triple A|Club points for new business in August, September and October.
One of the key features of InspiredMeetings is that both the Meeting Planner and the client are rewarded for their business. There is no minimum spend required to be rewarded with points and there are no blackout dates for hotel rewards.
Providing even greater flexibility, the A|Club points can be converted to hotel vouchers or to airline miles that can be used at the client or meeting planners convenience.
A further benefit is the A|Club points reward for the Meeting Planner selecting the hotel, the client co-ordinating the event and for any A|Club members staying in the hotel – who receive points on their hotel spend. This triple reward is unique to Sofitel and ensures that the decision makers and the end user are rewarded for their support.
Banqueting is recognised as an integral component of InspiredMeetings with a range of improvements now on offer. Tailor made menus ensure individualisation and French food and wine rituals, combined with local culture add flair to event. Time management is also critical to successful meetings and accordingly, the new Minute Lunches offer a choice of 30, 45 or 60 minute lunches to fit in to the client's schedule.
Sofitel views each meeting as unique and tailor made. InspiredMeetings ensure a stimulating and memorable experience for both the organizer and the participants.