Novotel Twin Waters has revealed its fresh new look and name.
New Sola bar adds a vibrant touch to the property
Novotel Sunshine Coast Resort has unveiled its new branding and refreshed look, heralding a new era for the popular Queensland conferencing property.
Formerly known as Novotel Twin Waters Resort, the hotel's rebrand follows the opening of the Sunshine Coast Convention Centre at the property earlier this year.
The hotel's lobby transformation, completed in October, was a catalyst for the new name.
"Novotel Sunshine Coast Resort better reflects the property's evolution, and aligns the resort with the Sunshine Coast Convention Centre, which opened earlier this year," said Matt Young, Accor's vice president operations, QLD and NT.
"We believe that it's a more progressive and appropriate name given that we are located in a destination being profiled on the international stage now more than ever before."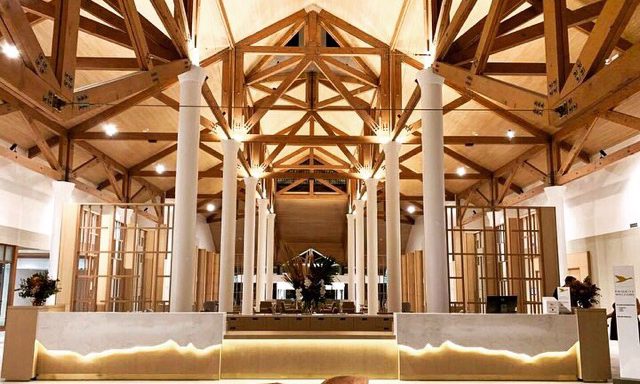 The hotel's $2 million refurbishment included a freshen up of the the hotel lobby and a completely revamped bar and alfresco deck.
Since opening in 1990, the resort has become known for its grand entrance with high atrium ceilings.
The renovation works have retained the original architectural features, while adding modern decor and highlighting local indigenous artworks.
Overlooking the outdoor pool and lagoon, Sola offers a casual food and beverage menu, inspired by the flavours of Sicily and celebrating fresh, locally sourced produce.
Yak Yong Quek, managing director of Shakespeare Property Group, which owns the hotel, hopes Sola will become a popular destination for guests and locals alike.
"The new SOLA bar and alfresco deck has created relaxed coastal dining facilities for guests with incredible views over the lagoon," he said.
"It has increased our capacity for group dining and provided an on trend option for locals to visit.
"We remain committed to upgrading our facilities and supporting our local economy, and we look forward to announcing more exciting resort upgrades in the future."