James Packer's Crown Limited has announced plans to build a AUD$568 million, 500-room Crown Towers hotel at Burswood in Perth.
By JAMES WILKINSON
James Packer's Crown Limited has announced plans to build a AUD$568 million, 500-room Crown Towers hotel at Burswood in Perth.
The property will feature 500, ultra-luxurious guestrooms over 25 floors, along with conference facilities for an additional 1250 delegates and several restaurants and bars.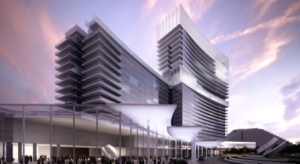 Construction will commence in early 2013 and will take the total number of rooms at Burswood to nearly 1200.
"The new hotel comes at a time when Perth and Western Australia are in desperate need of additional luxury hotel and short term accommodation to satisfy the demands of business travellers and tourists and will put Perth firmly back on the map for leisure travellers seeking exclusive, resort-style experiences," Crown said in a statement.
"The hotel will be located on land currently owned by Burswood as well as land to be acquired from the State, adjacent to the existing complex and currently part of the golf course, and provision will be made for the future development of serviced apartments and, potentially, mixed and retail facilities. "
Crown has confirmed it has an agreement in principle with the West Australian State Government to acquire the land for AUD$60 million to proceed with the development.
At the same time, Crown also confirmed the Government "has agreed not to oppose an application for 500 additional gaming machines and 130 additional gaming tables, including new private gaming salons".
The new hotel will take Crown's investment in Burswood to AUD$1.3 billion since acquiring the Entertainment Complex in 2004 for AUD$900 million.
"Since acquiring Burswood, Crown Limited has committed to modernising and expanding the facilities at the complex to bring it up to the standard of a world class integrated resort capable of competing in an expanding and increasingly competitive global entertainment and tourism market," Crown said in the statement.
"Crown Limited is committed to making Crown Perth a world class entertainment precinct to compete not only in the region, with the mega resorts in Singapore and Macau, but also globally, where large integrated resorts are increasingly being developed in an endeavour to capture a share of the expanding tourism market, particularly out of China."
Crown Limited recently re-branded the properties at the Burswood Entertainment Complex under the company's Melbourne brands – InterContinental Perth Burswood has become Crown Metropol Perth, while Holiday Inn Perth Burswood became Crown Promenade Perth.
The new project was immediately welcomed by the Australian Hotels Association's (AHA) Western Australia CEO, Bradley Woods.
"This investment by Crown shows tremendous confidence in Perth's accommodation hotel market, and the AHA congratulates the [WA] State Government for their efforts to make this development a reality," he said.
"With well known high occupancy rates in the Perth CBD this is a welcome announcement from the [WA] State Government and Crown."