If approved, the venue will cater for up to 1500 attendees, plus a further 2500 people in Centenary Park across the canal.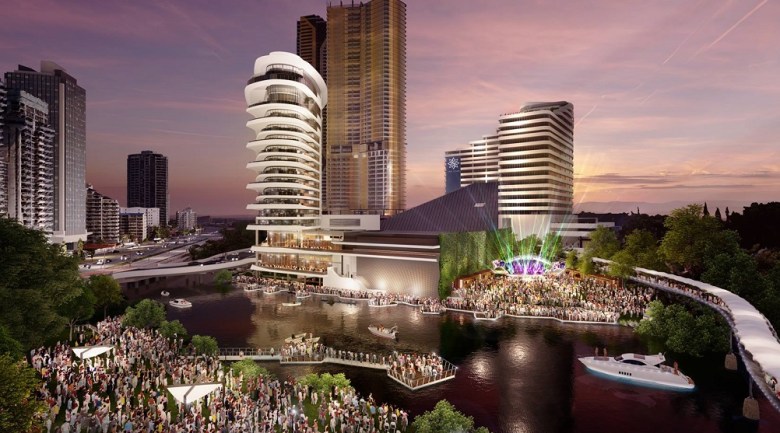 Artist's impression of the proposed venue
The Star Gold Coast has unveiled plans to add a large, open-air concert venue to the precinct, designed to attract local and international music acts.
If approved, the outdoor venue will cater for approximately 1000 to 1500 attendees and will also provide the opportunity to activate Centenary Park across the canal to accommodate an additional 2000 to 2500 people.
The Star Entertainment Group CEO Matt Bekier said the group has consulted a number of people "well-connected to the music industry" on the project.
"An outdoor venue that can stage concerts of small and large scale would drive great cut-through and further enhance the Gold Coast as a music destination," he said.
"Our plans include curating a calendar of events, from full-scale concerts by world-class bands and performers to family-friendly picnic events like Carols at Christmas, to smaller more intimate offerings like string quartets.
"A major part of this plan is to activate and further bring to life Gold Coast Bulletin Centenary Park, just across the canal from The Star Gold Coast.
"The way we intend to position the stage on our property will enable people in the park to be close to the action, have a great view and be part of the overall atmosphere."
While the proposal is still in initial stages, community considerations are underway to decide how the selected site should be established and positioned.
Bekier said the group plans to develop a vacant piece of canal-front land, which could accommodate a stage, attendees and portable food and beverage outlets.
The positioning of the stage is also being considered to maximise space and limit noise levels.
"First, the elevated stage will be in full view of Gold Coast Bulletin Centenary Park," said Bekier.
"The park could be activated for larger concerts and free family-friendly events, increasing the audience considerably and creating that unique waterside experience.
"Secondly, the stage will be positioned so the music is directed towards the park and the highway."
The new project comes just two months after the Queensland Government approved a mega masterplan for The Star Gold Coast, that will inject more than $2 billion in additional tourism investment at the venue.