Green is the new black for Noosa's next wave of conference as one of Noosa's most anticipated conference and resort projects prepares to open early
Green is the new black for Noosa's next wave of conference as one of Noosa's most anticipated conference and resort projects prepares to open early, the Outrigger Little Hastings Street Resort & Spa will open three weeks ahead of schedule this Thursday (July 8 2010.)
The environmentally sustainable, five-star $350 million Outrigger Little Hastings Street brings a welcome boost to Noosa's conferencing mix catering for up to 500 delegates cocktail style, plus a further 87 in a purpose-built theatrette ideal for product launches and presentations – all located just above Hastings Street and nestled beside Noosa National Park.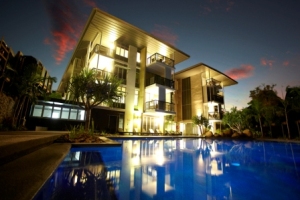 Opening three weeks ahead of schedule- Noosa's Outrigger Little Hastings

Drawing a flurry of interest from PCOs tapping into the growing demand for eco-friendly venues, Outrigger Little Hastings Street has already secured an impressive number of conferences for 2010 and 2011 prior to opening, which in itself confirms the increasing demand for 'greener' venues.
And in what is considered to be a major show of confidence, Outrigger has recently been selected as the official host for the next Global Eco Asia-Pacific Tourism Conference being held from October 25 to 27.
Just a two-minute stroll from Hastings Street, the resort has received numerous design and landscaping awards, with some of the eco-friendly features including rainwater harvesting systems, sustainable building design and materials, gas and solar powered hot water systems, gas heated pools and energy efficient in-room facilities.
Outrigger Little Hastings Street contains 197 luxurious suites, villas and penthouses together with full resort facilities and a luxurious day spa to be operated by one of Queensland's most respected operators, Stephanies, of Brisbane's Sofitel Hotel acclaim.
Stephanies Ocean Spa is an eleven-room day spa which includes six treatment rooms comprising a triple treatment suite with a private floatation pool, two double treatment suites – one including a Vino twin bath offering signature Vinotherapie anti-ageing treatments – and the other featuring a twin Geisha Light Therapy spa bath together with three single treatment suites.
Using the finest beauty and treatment products including Payot, Stephanies will also offer the exclusive Terraké range found only in a handful Australia's finest spas.