Conferences in Thailand will take a hip twist from June 2010, when the 75-villa W Retreat Koh Samui opens for business.
Conferences in Thailand will take a hip twist from June 2010, when the W Retreat Koh Samui opens for business.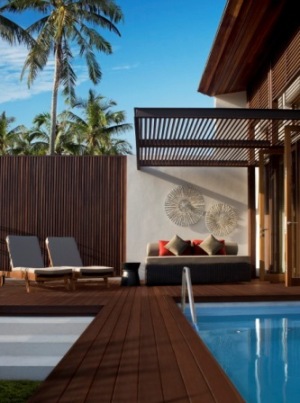 June opening: W Retreat Koh Samui
The 75-villa property will be the second W Retreat to open in Asia-Pacific after the Maldives and comes ahead of the highly-anticipated W Retreat and Spa Bali in Seminyak, scheduled to be completed in late 2010.
An all-villa beachfront resort set on the north shore of Thailand's famed Samui island, W Koh Samui will bring an alluring new dimension of cutting-edge design, contemporary lifestyle, and exhilarating experiences to Thailand.
"W Retreat Koh Samui will redefine the way we live and play, delivering a fully integrated contemporary lifestyle experience with the signature W twist," said W Retreat Koh Samui general manager, Coetzer Deysel.
"We are delighted to bring our world of 'Wow' to Koh Samui, one of the coolest islands in Southeast Asia," he said.
A modern paradise of vibrant foliage, unspoiled golden sand and warm island breezes, W Retreat Koh Samui will offer panoramic sunrise and sunset views of the Gulf of Thailand from its exceptional beachfront location.
The Retreat will feature 75 private villas equipped with modern lifestyle innovations, including a private pool, daybeds, an outdoor shower, Yamaha sound system, 47-inch plasma screen TV, wine refrigerator, and the signature W bed.
W Retreat Koh Samui's signature services and amenities will bring a new level of indulgence to a renowned Thai island. Exclusive experiences will include W's signature Whatever/Whenever concierge service, providing guests and residents with whatever they want – from a Champagne brunch on a deserted beach or an intimate sunset wedding on a stretch of Koh Samui's glistening sand to an impromptu island-hopping excursion.
W Retreat Koh Samui will be a scintillating playground for the discerning leisure traveller and conference delegate alike. W's signature Living Room, a magnificent indoor/outdoor lounge rich with stunning ocean vistas and swank lounge seating on the water, will welcome stylish island guests and bring an irresistible new highlight to Koh Samui's vibrant nightlife scene.
Guests of the Retreat will be able to enjoy preferred dining reservations and seating at The Kitchen Table, which will serve food from the heart, including freshly baked treats, gourmet pizzas and inspirational buffets, as well as at W Retreat Koh Samui's signature Japanese restaurant, Namu. Before dinner, guests may spice up their evenings with one of W Retreat Koh Samui's signature cocktails at the see-and-be-seen lounge, Sip.
aWay Spa, the signature spa at W Retreat Koh Samui, will offer guests and in-the-know locals an exceptional wellness escape with signature treatments including massages, facial and body treatments, manicures and pedicures, as well as a range of treatments incorporating local Thai influences – whether it be ingredients, massage techniques or design details – in a cool and playful way.
Guests will also be able to enjoy the WET pool, SWEAT state-of-the-art fitness facility, water sports center and tennis court, Style Lab and much more.
The Great Room function area at W Retreat Koh Samui will serve as an ideal island venue for business gatherings and creative meetings.
Creative in approach and innovative in design, the Great Room can be divided into two areas and serves 60 people with the latest in meetings technology.
For reservations and more information, visit www.whotels.com/kohsamui.