InterContinental Hotels Group is set to offer free internet to its 71 million loyal program members worldwide.
IHG (InterContinental Hotels Group) is set to offer free internet to its 71 million loyal program members worldwide.
The announcement comes as IHG reveals the results of a global online survey which show that nearly half of adults (43%) would choose not to stay in a hotel that charged for internet.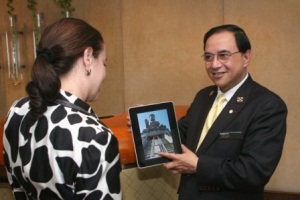 IHG says it is the first and only hotel group to offer free internet in all hotels to all loyalty programme members, globally, whether they stay the night or come in for a coffee or an impromptu meeting.
The move comes as IHG announces that it will be enhancing and renaming its industry-leading loyalty programme Priority Club Rewards as IHG Rewards Club in July and introducing a range of new benefits for members.
"In today's fast-paced world, we know that travellers need to stay connected and free internet access is increasingly important," said IHG's Chief Executive Officer, Richard Solomons.
"I am proud that IHG is the first hotel company to offer free internet globally to all our loyalty programme members.
"2013 marks 10 years since IHG became a standalone company. Whilst we are relatively young as a business, our brands, such as Holiday Inn and InterContinental, have a deep history and a powerful heritage and are instantly recognised by millions around the world.
"Renaming our industry-leading loyalty programme as IHG Rewards Club will help our guests understand that all our brands are part of the same IHG brand family.
"Whether it is a business stop-over or a family holiday, our guests can choose from more than 4,600 hotels in nearly 100 countries and territories, secure in the knowledge that each carries the IHG badge of responsibility, trust and confidence that they can rely on," he said.
Internet access is increasingly important to hotel guests and a key consideration when planning their hotel stays.
New research commissioned by IHG reveals that:
-43% of adults surveyed said that they would choose not to stay in a hotel that charged for internet.
-23% of respondents said that free internet in rooms and throughout the hotel is the most important amenity when staying in a hotel for business, compared to 7% who chose room service.
-Travellers from China placed the most importance on online connectivity – with nearly half (47%) listing it as the most important thing to them when staying in a hotel for business, followed by those from Russia (26%), the US (23%) and India (22%).
-Travellers from the UK (18%) and the US (14%) both listed paying for internet as the second most annoying thing when staying at a hotel after noisy guests (22% and 24% respectively).
-Globally, more female respondents (14%) say free internet throughout the hotel is most important to them when staying for leisure, compared to 2% who listed having an in-room hairdryer..
IHG Rewards Club, formerly Priority Club Rewards, is the world's largest hotel loyalty programme, providing existing, industry-leading benefits including points that never expire, no blackout dates for Reward Nights, flight rewards, music downloads and free nights at any IHG hotel anywhere in the world.
From July, new benefits will include:
-Free internet to all Elite status members from July 2013 and extending to all members during 2014;
-The ability to earn Elite status faster by staying in three or more of IHG's hotel brands;
-Reward Nights will count toward earning Elite status; and
-Platinum Elite members' "extra" nights will roll over toward maintaining their status in their next membership year.