The world's leading Hoteliers are confident of a strong finish in 2011, particularly thanks to a rebound in corporate travel and a significant upswing in MICE market business across the globe.
BY JAMES WILKINSON IN NEW YORK
The world's leading Hoteliers are confident of a strong finish in 2011, particularly thanks to a rebound in corporate travel and a significant upswing in MICE market business across the globe.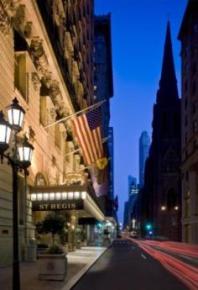 St Regis New York
Speaking to a packed house at the 33rd Annual New York University International Hospitality Industry Investment Conference, the heads of Carlson, Four Seasons, Hilton Worldwide, InterContinental Hotels Group (IHG) and Starwood were all upbeat about the third and fourth quarters of the year.
"Group bookings are continuing to show impressive improvement," said Hilton Worldwide's President and Chief Executive Officer, Christopher J Nassetta. "I look to the second half of the year to be strong generally."
Nassetta's bullish outlook was echoed by his peers on the 'CEOs check-in' panel, one of the 37 sessions across the two-day conference held at the New York Marriott Marquis hotel last week (June 6-7).
"Corporate travel is back," said Carlson President and CEO, Hubert Joly, noting that a pick-up in internal meetings was helping drive the growth.
He also said a pick-up in business for Carlson was coming from a number of key new markets around the globe.
"Emerging countries have strong growth coming up," he said, referring to the seemingly never-ending potential of China and India.
IHG's CEO designate and current Chief Financial Officer, Richard Solomons, said while MICE was good, leisure was also proving strong for the London-based company.
"You always get short-term issues, be they ups or downs (but) there is always a limit to how long you can't travel," he said, in response to the effect of the Japanese earthquake and political upheaval in the Middle East.
"The leisure business has held up very well… it's a way of life that people want to travel."
Four Seasons Hotels and Resorts President and CEO, Kathleen Taylor, said her company's segment, the leisure market, has performed particularly well.
"Luxury continues to lead the recovery," she said. "We are seeing very strong RevPAR (Revenue Per Available Room) gains."
Taylor said while the travel market to some Middle Eastern countries, particularly Egypt remained flat because of the recent unrest, others have held up – including the United Arab Emirates, which she said "remains strong".
The Four Seasons CEO had a message for both the Hoteliers on her panel and the hundreds of industry leaders, suppliers and consultants in the Marriott ballroom.
"'Expect the unexpected' is a term the industry needs to adapt every year," Taylor said.
Starwood's President and CEO, Frits van Paasschen, who left for a month-long stint in China soon after his panel, said while 2011 would be a strong year, there were still some reservations about key markets.
"Global GDP growth is fuelling demand," he said. "(But) what concerns me is the fiscal situation in not just Europe, but also the US.
"Growth in emerging markets is key (for the company) and I'm going to China for a month tonight.
"I'm going to spend time talking to our partners (because) you can't understand a market until you buy groceries there," he said.
China was a hot topic for the Hoteliers at the NYU Hospitality Conference, particularly given the strong growth of all five companies in that market.
In the past, most United States hotel development conferences have looked primarily at the home market. But, given the significant growth for every major global hotel chain outside what once was the primary market, worldwide took a huge focus in New York this week.
"The reality is I spend most of my time outside the US," said Nassetta. "Seventy-five per cent of our development pipeline is outside the US and the future of our company is going to be driven by international markets."
Given the staggering Chinese numbers of 100 million outbound trips and two billion domestic trips within China over the next 10 years, it's no surprise that it's a market every hotel chain is focusing on.
"China is our second largest market… we have 150 hotels in China and 150 in the pipeline," said Solomons. "We (IHG) are in the process of launching a Chinese brand for the Chinese, but there is still demand for our international brands there."
Nassetta said the mid-market hotel potential in China was staggering.
"There is an opportunity for thousands of hotels," he said. "We need to spend time to know what the Chinese traveller wants. So we are going to take a mid-market hotel brand and deliver what the traveller wants.
"I think we are going to take our existing brand and adapt them," Nassetta said, hinting that the company's Hampton Inn brand would most likely be the one to be modified for the Chinese traveller.
Joly said India was another emerging market that Carlson was tapping further into on the back of very strong growth potential.
"As the (Indian) economy grows, the mid-market is very promising," he said. "But with these new customers you need to start with their needs.
"(For example), in India, food and beverage is very important and you need to have room service for the mid-market, which you don't have here in the US."
Room service has been removed from many mid-market and mid-scale hotels in the United States, but like Joly said, it is one of several things that needs to be adapted if chains such as Carlson are going to win over travellers and hotel developers in emerging markets such as India and China.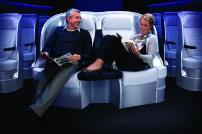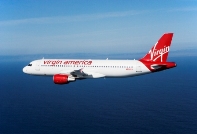 Air New Zealand's Premium Economy and Virgin America
SpiceNews flew to New York with Air New Zealand and Virgin America. A number of flights on Air New Zealand's Auckland-Los Angeles service are operated by new Boeing 777-300 aircraft, which feature the next-generation premium economy cabin, which offers futuristic seats, gourmet dining thanks to new induction ovens, a fine selection of wine, entertainment on demand and large pillows to ensure a good night's sleep. Virgin America offers one of the best domestic economy cabins in the sky, complete with live in-flight TV and WiFi, and food and drinks on demand, which can be ordered from your seat. Virgin's schedule connects well with Air New Zealand and while you're flying across the United States, you'll also pick up valuable Velocity Rewards points to redeem on Virgin Australia flights. For bookings, visit www.airnz.com.au and www.virginamerica.com