The CBD venue is available to hire for private events.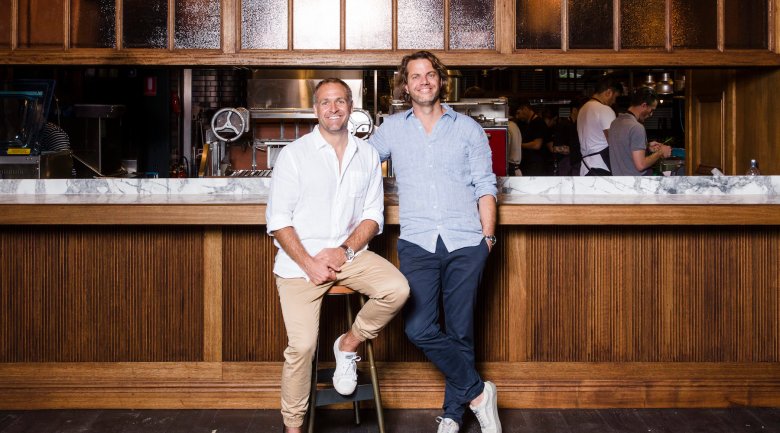 Applejack owners Ben Carroll & Hamish Watts
Sydney hospitality group Applejack will unveil its third CBD venue this week, with the launch of Hester's Café & Bar.
Opening to the public on Wednesday 12 August, Hester's is the final piece of the puzzle for Applejack's Wynyard Precinct, joining its restaurant Bopp & Tone and café June's Shoppe on Carrington Street.
In the morning, the café will serve coffee, classic breakfast dishes and home-baked pastries, and from lunch the venue will offer a Mediterranean-inspired menu by head chef Sa Va'afusuaga.
The venue will also be available to hire for events of up to 60 people combining the indoor space and outdoor terrace.
The trio of Wynyard venues are a tribute to the grandparents of Applejack co-founders Ben Carroll and Hamish Watts.
Hester's is named after the wife of 'Bopp', the namesake of neighbouring restaurant Bopp & Tone, in the same way June's Shoppe is a eulogy to June, who was Tone's wife.
"We wanted to create an intrinsically Sydney experience within a unique and distinctive setting," said Carroll and Watts.
"Bopp & Tone, June's Shoppe and now Hester's are a nod to our grandparents, who symbolise and embody the iconic and nostalgic Sydney of the past, which is reflected in the food and interiors of each venue.
"Food influences come from our chef's passion for Mediterranean food and philosophies that translate so well with Australian ingredients and the Aussie way of life."
---
More reading
Canberra's Little National Hotel set for Sydney
Famed Nobu restaurant to open at Crown Sydney
Four Pillars Laboratory opens in Sydney