Two hotels in Australia have been recognised for not only withstanding the global financial crisis, but for rising above the conditions and delivering above-market returns in 2009.
Two hotels in Australia have been recognised for not only withstanding the global financial crisis, but for rising above the conditions and delivering above-market returns in 2009.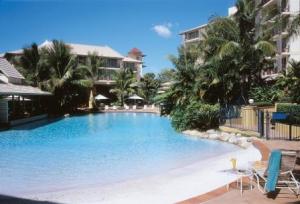 Novotel Cairns Oasis Resort
When your major sources of business disappear almost overnight, what do you do?
This is what happened to two Australian hotels, which have just been recognised as joint "Hotels of the Year" in Accor Australia's annual hotel awards.
The two hotels – Novotel Cairns Oasis Resort and Mercure Sydney – are very different hotels, but shared the major prize for many of the same reasons.
Visitors to Cairns see the city as an idyllic tropical base to explore natural wonders such as the Great Barrier Reef and the Daintree Rainforest. But the problem for Novotel Cairns Oasis Resort is that international visitors stopped coming to the city as the global economic crisis cut travel from traditional markets such as Japan, America and Europe.
Novotel Cairns Oasis Resort General Manager, Greg Erwin, said that he held an emergency meeting with his team, supported by the Accor regional team.
"We had taken over the hotel only a year before and re-launched it as the Novotel, so the hotel was just finding its feet when the GFC hit," he said. "At that time almost 100 per cent of our business was international tourists. So we had to change our direction significantly.
"What we did was to win new business from American and European wholesalers, build the New Zealand market, and then we used our strong relationships with domestic wholesalers such as Qantas Holidays and Sunlover to build our local business.
"By the end of the year, we had balanced our source of business to roughly 50 per cent international and 50 per cent domestic, which will ensure that we are better able to withstand global problems.
"Because of this shift, we also had to change the style of our hotel operation, reflecting the different needs of the domestic market. We found great benefit in the brand offerings such as Novotel&Family and Meetings@Novotel, both of which helped us build business.
"I think our recovery highlighted the strength of the Accor team. We used every avenue – loyalty programs, e-commerce, strategic relationships and the national and global sales force to get our message out, and by the end of the year we were leading our competitive set of hotels," Erwin said.
Mercure Sydney General Manager, Greg Brady, similarly used Accor's multi-brand support platform to help the hotel thrive in a market that was under great pressure.
With a 500-room hotel and with the corporate and meetings market in freefall, Brady knew that 2009 could have been a disastrous year.
"The key was to give our sales team carte blanche to win any business that they could," he said. "I told them to think out of the square and not just rely on traditional sources of business. And I also told them to follow up any lead and not let it go without a fight."
As a result the Mercure actually increased their residential conference business by 139 per cent, when most other hotels lost ground. The hotel became the number one Sydney hotel booked on Rakuten, Japan's largest online international travel booking site. Instead of recording a fall in Japanese business, Mercure increased their figures by 78.3 per cent.
The Mercure team hosted agent famils from all over the world, and one such famil helped boost their Indian business from 2232 room nights to 8391, a rise of 376 per cent.
Other distribution channels used by the team included media promotions on TV and radio, e-marketing and social networking. There was no stone left unturned in the search for new business.
Not surprisingly, the hotel not only was co-winner of the Hotel of the Year award, but also the Sales Team of the Year award.