International hotel group, Accor, has teamed with Apple to launch a new iphone application enabling guests to book a room in over 3,000 Accor hotels worldwide, directly from their phone
International hotel group, Accor, has teamed with Apple to launch a new iphone application enabling guests to book a room in over 3,000 Accor hotels worldwide, directly from their phone via www.accorhotels.com
Hotels such as Sofitel, Pullman, MGallery, Mercure, Novotel, Suitehotel, Adagio, ibis, all seasons, Etap and Formule 1 hotels can now be accessed by 30 million iPhone users.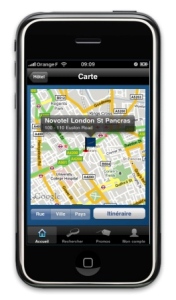 iPhone users can now book a room at any Accor hotel worldwide with their phone.

The application takes advantage of Apple's intuitive browsing capabilities and offers additional services, including geolocation features that enable users to search for the nearest hotels or calculate itineraries in real time. It also includes a personalised service that memorises current reservations and favourite hotels and synchronises with the iPhone contacts.
When booking via iPhone, users also benefit from secure payment processing and enjoy access to promotional offers in Accor properties around the world. The application is already available in five languages (French, English, German, Spanish and Italian).
"We're proud to launch this innovative application, which is accessible to 30 million iPhone users," said Jean- Luc Chrétien, executive vice president, Accor Hotel marketing and distribution. "This new booking solution for the public will help us strengthen our leadership positioning in business and leisure hotels whilst offering added convenience to our customers."
The application can be downloaded at www.itunes.com/app/accorhotels
For more information click here.