Visitors will get free access to a series of thought-provoking panel discussions and sessions, providing essential events advice.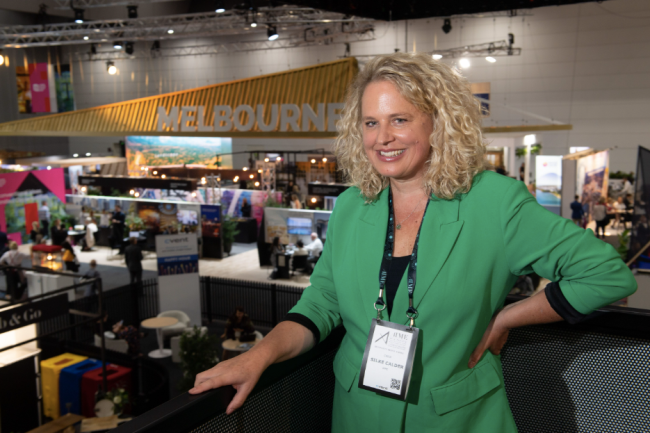 AIME Event Director Silke Calder
For the first time, Spice will present an Ideas Academy at AIME 2024, with sessions and discussions about the events industry delivered in a unique way.
Each Ideas Academy session will be delivered silently via individual headphones, with high-quality, informative content providing practical takeaways for attendees to implement in their businesses.
Topics covered will include event marketing, sustainability, F&B, entertainment, team building, First Nations culture and wellness.
Spice Magazine's National Account Director, Charlotte Marshall, said the Ideas Academy sessions will run continuously at AIME on Tuesday February 20 and Wednesday February 21 and are free for all attendees without booking.
"Spice Magazine is thrilled to be partnering with AIME this year to showcase some of the very best talent from our network of event professionals," Ms Marshall said.
"We look forward to bringing some Spice to the Ideas Academy in 2024."
AIME 2024 will also feature a larger showfloor in 2024, expanding the event's footprint by an additional two bays at its home, the Melbourne Convention and Exhibition Centre.
This growth allows the introduction of new zones, including The Boutique and DMC Network and bringing a number of first-time exhibitors to AIME.
A dedicated zone for Destination Management Companies will be set up for the first time and will bring together on-the-ground teams from all over the world who are positioned to curate tailored experiences for conferences, incentives and events in their region.
AIME Event Director, Silke Calder, said planning for AIME 2024 is well and truly underway.
"The showfloor will be even bigger than ever," Ms Calder said.
"We look forward to welcoming convention bureaux from every Australian state and territory plus international exhibitors such as New Zealand, Japan, Singapore, Macau, Africa and many more."
Visitor registration opens on November 13, 2023 at aime.com.au.