Australia's Tourism Minister says the meeting will "inject much needed revenue" back into the local economy.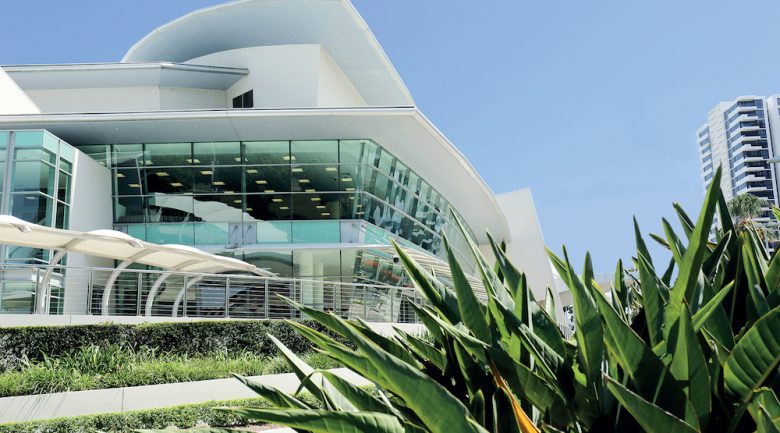 Gold Coast Convention and Exhibition Centre
The International Society for Eye Research (ISER) has chosen the Gold Coast Convention and Exhibition Centre (GCCEC) as the host location for the 2022 ISER Biennial Meeting.
The business event will see 1,200 delegates converge on Queensland's Gold Coast, including 500 international attendees.
Together, the visitors are expected to generate 3,800 visitor nights, worth $2.4 million to the state's economy.
The GCCEC team worked closely with Tourism and Events Queensland (TEQ), Destination Gold Coast and Tourism Australia (TA) to secure the meeting.
The bid was supported by TA's Business Events Bid Fund Program and TEQ's Business Events Acquisition and Leveraging Fund.
GCCEC general manager Adrienne Readings said the venue was up against other "iconic destinations" in the bid.
"The ISER meeting provides a unique opportunity for academics, researchers and students within the international industry to learn and collaborate with their peers and mentors," she said.
"The Gold Coast will be the centre of focus for eye research and innovation in the lead up and during this meeting."
Australia's Tourism Minister Simon Birmingham welcomed the bid, and said international business events would be crucial for the ongoing recovery of Australia's tourism industry and broader economy.
"This is a great win for the Gold Coast, securing events such as this will inject much needed revenue back into local economies and help provide a boost for businesses," he said.
"The long lead time involved in securing these large-scale conferences means that now is the time to remind global event decision makers to continue to look to Australia as their choice destination in the years to come."
Destination Gold Coast CEO Annaliese Battista also welcomed the bid win.
"At a time of unprecedented challenges for the global business events sector, the Gold Coast continues to offer decision-makers certainty as a future host city for world-class international conferences, beyond COVID-19," she said.
"Conferences enrich our city through direct economic contribution to the business events and tourism industry, and we are delighted to have partnered with GCCEC and key stakeholders to achieve the outcome of this bid."