With early bird registration closing soon, here are five reasons why you should attend PCOA18.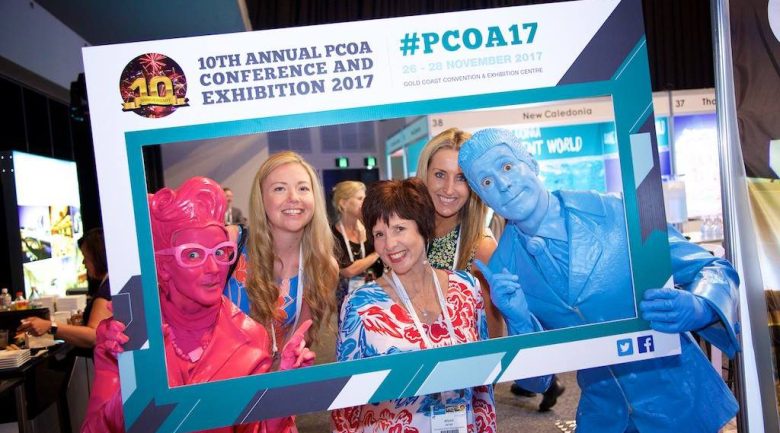 Delegates get snapped at PCOA 2017.
Delegates get snapped at PCOA 2017.

Have you secured your spot to the 2018 PCOA Conference & Exhibition?
Now is your chance to register at a discounted rate, with early bird registration closing 26 October 2018.
Taking place in the new Goldfields extension of the Melbourne Convention and Exhibition Centre on 9-11 December, the 11th annual PCOA Conference & Exhibition will bring the industry together under the theme 'Embracing Change'.
Here are our top five reasons why you should attend PCOA18:
1. Be inspired and informed
The 2018 conference program promises educational, relevant and innovative content for all delegates.
The speaker program includes communication expert Anneli Blundell (aka the Professional People Whisperer); 18-year old Scott Millar who founded one of Australia's leading holographic projections companies; Sam Mutimer, founder of social media agency Thinktank Social; and Rob McManus, general manager of event health services at St John Ambulance Australia.
2. Take home key messages
Each presentation will provide clear key takeaway messages relevant to the industry, including a particular focus on stress management for meeting planners.
Mental health is one of the most common issues challenging all industries and the program will provide delegates with tools and strategies to take back to their workplaces.
3. Embrace change
Delegates can attend this year's Campfire Session to experience a different style of meeting while sharing tips and opinions in an inclusive way. Facilitated by Anne Gill, the session will explore pricing models and affordability of venues for associations.
4. Be Exposed
Meet 60 exhibitors and be exposed to new and innovative products on display during the exhibition component.
5. Connect and relax
Meet like-minded industry professionals at the networking functions and make new industry friends. PCOA18 is also a great excuse to take a few days away from the office to rejuvenate and revitalise before the year's end.
Register here for the 2018 PCOA Conference & Exhibition.