The Northern Territory solar city, Alice Springs, is currently hosting the brightest sparks of the eco tourism industry at the Asia Pacific eco tourism conference, Global Eco, this week
The Northern Territory solar city, Alice Springs, is currently hosting the brightest sparks of the eco tourism industry at the Asia Pacific eco tourism conference, Global Eco, this week (9-11 November.)
As travellers continue to display their growing appetites for all things green, the conference program will introduce tourism operators and industry participants to new technologies, research, product partnerships and policies, and showcase the full gamut of challenges, and potential solutions, facing the industry.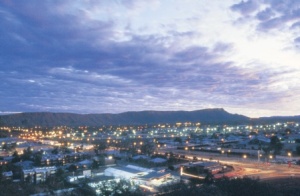 Alice Springs, The NT's solar city is currently hosting the
Global Eco conference.
Some of the speakers include Chief Executive of Eco Tourism Australia, Kym Cheatham; Federal Minister for the Environment, Heritage and the Arts, Peter Garrett; and Frank Hubbard, director of corporate responsibility for IHG (InterContinental Hotels Group).
IHG includes the Crowne Plaza Alice Springs, which has set the green benchmark for the Australian business sector and hotel industry, by covering its roof in solar panels, creating the largest building-mounted solar photovoltaic (PV) system in the southern hemisphere. This ground-breaking $3.3 million installation will reduce the hotels energy consumption by between 40 and 80 percent.
The most anticipated speaker will be Costas Christ, the global travel editor of National Geographic Adventure, and an internationally recognised expert on sustainable tourism. An eco tourism pioneer, he is also the lead author of Tourism and Biodiversity: Mapping Tourisms Global Footprint and a contributing author in Wilderness: Earth's Last Wild Places.
Alice Springs was deemed the most suitable location for the conference in light of the extensive green initiatives that have been instigated by its local government and tourism operators, in an attempt to create the most sustainable tourist destination in Australia.
Tourism NT Environmental Tourism Development Officer Natasha Smith said that the Alice Springs businesses and community had shown tremendous initiative in making Alice Springs the solar capital of Australia.
Tourists travelling to Alice Springs now have a fantastic opportunity to learn about solar technologies at the new, world class Desert Knowledge Solar Centre, Smith said. This 3.1million centre showcases the largest range of solar power technologies in the southern hemisphere, through commercial-scale installations.
Within the town of Alice Springs, the local community and businesses are also heavily engaged in embracing sustainable technologies. Since the Alice Solar City was launched in March 2008, 1121 households and 75 businesses have got on board to reduce their energy consumption.
For more inforamtion on taking your next conference to Alice Aprings or any of the amazing regions of the NT, click here.