Howard Smith Wharves is set to open its new venue 'Howard's Hall' this coming November.
Designed by award-winning architecture and interiors studio Woods Bagot, the vast, 1,100 square metre event space will be privy to uninterrupted riverfront views, spanning the iconic Story Bridge and city skyline.
The new site will accommodate myriad private and public events—from conferences, meetings, pop-up events and product launches to exhibitions, concerts and weddings. Perhaps that's why they've already got events booked until 2022.
When it opens, Howard's Hall is set to be busy; there are already 700+ bookings in the next 18 months, that stretch out to 2022. The site is well-equipped though—with 250+ staff through peak trading times, and near-350 during festival activations. Closer to opening Howard's Hall will make some exciting culinary announcements too; though at present these are under wraps.
"Woods Bagot's design ethos has been instrumental to this space," says Scott Bayne, General Manager of Events at Howard Smith Wharves. "They understood, from the outset, that the space had incredible potential to be a first-class venue, appealing to international companies and locals alike. Howard's Hall is paired with a wide range of advanced technological features including a spectacular 15m LED screen, and an immersive Virtual Reality experience, allowing clients to see different room layouts and lighting designs prior to opening."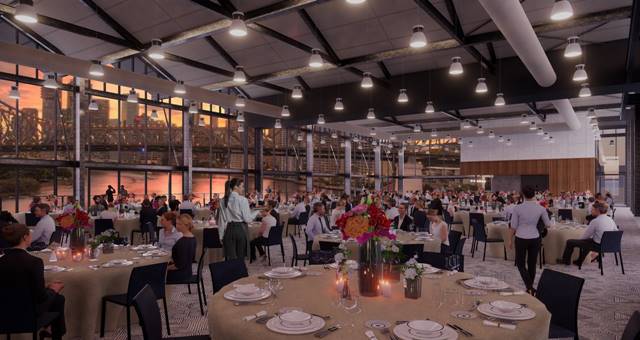 Bayne, a master of high-end events, knows the importance of flexible placemaking better than anyone—before making Brisbane his home, he was Director of Events at Star Entertainment Group, and before that, Group Dining Manager of Wynn Resorts in Las Vegas.
"It's one of the most exciting projects I've ever been involved with," grins Mark Damant, a Woods Bagot principal and the director of the world-class build. The reasons for this are three-fold.
"There are lofty ceilings that effortlessly enable a sense of airiness and light, retractable floor-to-ceiling windows (designed to capitalise on that enviable riverfront location), and ultra-nimble, flexible space-in-spaces—including rooftop terraces and rooms of varying sizes—that allow multiple events to be hosted at once.
"In Howard's Hall internal events space to give a sense of the hosting possibilities, the cocktail capacity is 1200, with the ability to use the outdoor event spaces to extend event capacities.) And finally, there's the setting, which is, well—pretty much perfect. "This is going to become one of the city's most memorable spaces, set against one of its most heroic views," says Mr Damant.
"The panorama it offers is absolutely incredible: – the arches of Story Bridge, looking back at the city, across to Kangaroo Point and down the New Farm reach of the Brisbane River."
Less than 10 per cent of the buildings at Howard Smith Wharves are new. The majority are carefully repurposed heritage spaces. To fit seamlessly into the broader precinct, and respect the site's weighty history, the new buildings—which include Howard's Hall, a boutique hotel and overwater bar—will tap into the industrial language of their neighbours.