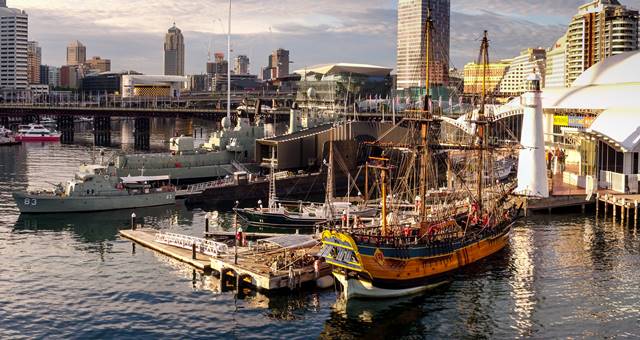 A new waterfront pavilion set in Sydney's Darling Harbour will be available for hire from 10 November.
Named after Captain Cook's majestic vessel and its on-site replica, the HMB Endeavour, the Endeavour Pavilion is a new addition to the wharves of the Australian National Maritime Museum (ANMM).
In addition to its prime waterfront location overlooking the stunning harbour, the Endeavour Pavilion also offers all-inclusive event packages, with everything from venue hire to catering and furniture looked after on site.
The Endeavour Pavilion can accommodate up to 200 seated guests or 350 cocktail, is a bespoke marquee by White Umbrella. It can be arranged to suit any event from cocktail parties, Christmas parties, product launches and award ceremonies, to large sit-down lunches or dinners.
With four furniture ranges to choose from, the space can be tailored to suit the theme of any function, from modern and edgy, to classic and refined.
Catering at the new venue will be provided by Laissez-Faire.