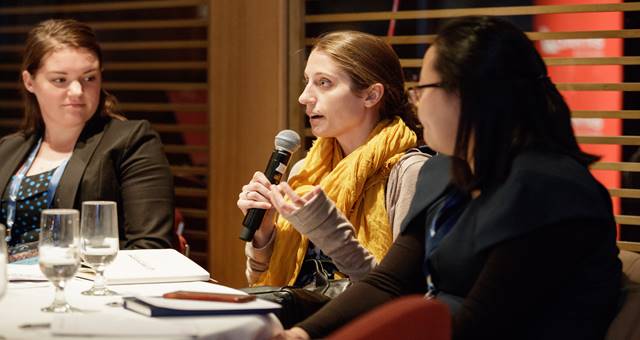 A scholarship opportunity extended by the AACB to the Destinations International's 30 Under 30 class for 2017  has been awarded to Andrea Gardi, a senior project manager at Ontario Canada's Regional Tourism Organisation 4 Inc (RTO4).
Gardi, who was invited to attend the recent AACB conference, was granted the scholarship after submitting an essay detailing what she found most enlightening at the Destinations International Annual Convention.
"I'd like to thank the AACB and Destinations International for this opportunity, and the unbelievable hospitality while I was in your beautiful and unique country," said Andrea Gardi.
"I left inspired by the speakers, as well as the conversations I had with all of the attendees. RTO4 is committed to an incubator approach to destination development and my time at the conference allowed me to learn from others taking a similar innovative path."
"I congratulate Andrea on winning the reciprocal AACB/Destinations International Scholarship," said Andrew Hiebl, CEO of the AACB. "It was a delight to have Andrea in our midst where she had the unique opportunity to network with convention bureau staff from across Australia and also share her international experience with her Australian counterparts."
Don Welsh, President and CEO added: "We're thrilled to have established a scholarship prize for one of our member destination organisations and to have another opportunity to provide our next generation of industry leaders with new and exciting educational opportunities."