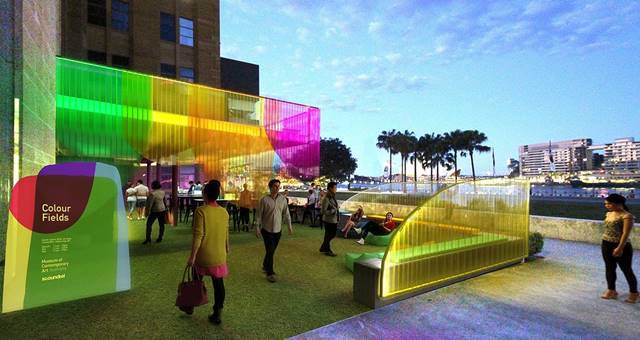 Circular Quay is getting a pop of colour when the Museum of Contemporary Art Australia (MCA) opens its latest summer bar 'Colour Fields' from 3 November 2017.
Inspired by the Sydney International Art Series exhibition Pipilotti Rist: Sip my Ocean (1 November 2017 – 18 February 2018), Colour of Fields will offer Sydney-siders and visitors the chance to view the harbour in a different light.
The Colour Fields bar is available for functions, private hires and Christmas parties for groups of 60 or more on Monday and Tuesday evenings or for weekday lunches Monday to Friday.
The fully-styled venue works day and night, for multiple events and in all weather.
To bring the pop-up to life, MCA is collaborating with a star-studded lineup including the creative studio behind some of Sydney's most remarkable happenings, Scoundrel Projects; the cheerful crew who have championed too many Australian musicians and DJs to mention, Future Classic; the Sydney folk who've encouraged us to put down that mobile and take a life-enriching short course, Work-Shop; and finally Culinary Edge, the passionate team behind MCA's restaurant Graze which overlooks Circular Quay.
MCA Director, Elizabeth Ann Macgregor OBE said: 'For our third summer pop-up, the MCA is collaborating with some of the best creative talent to produce something that's bold, ambitious and inspired.'
'After experiencing the vibrant projections and installations of the pioneering Swiss artist Pipilotti Rist, we hope visitors will enjoy a cool drink at Colour Fields and see Circular Quay in a different light,' Macgregor added.
Scoundrel Projects co-founder, James Dive said: 'This MCA terrace space is without a doubt, the best blank canvas in Sydney. My favourite creativity is interruptive. So the opportunity to creatively interpret such an iconic location was irresistible.'
A vibrant menu has been created by Culinary Edge, the team behind Graze Restaurant. Visitors can celebrate summer in style with a carefully curated selection of cocktail classics with a contemporary twist and a range of bites and boards perfect for sharing.