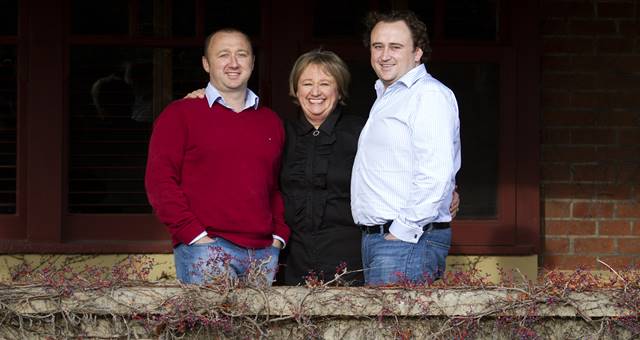 Second generation owners of Elderton Wines Cameron and Allister Ashmead will open up the doors to their family home in South Australia's Barossa Valley as the distinguished wine label's new cellar door.
Following a significant restoration to the structure and surrounding gardens, the new Elderton Wines Cellar Door will be one of just a few wineries throughout Australia to showcase its heritage and history by opening up the family homestead to the public.
The new Barossa winery cellar door will commemorate the Ashmead history and their successes in the Australian wine industry since their arrival in the Barossa in 1979.
Along with sprawling views and great Barossa hospitality, the cellar door facility, located on the Eastern end of the Command Shiraz block, will feature a private lounge and dining room, a 20 metre swimming pool and lawn tennis club, a helipad, four private tasting rooms and multiple outdoor areas including a vine-covered dining area overlooking the lawns.
"It is a very exciting development for our family winery, and the whole team at Elderton cannot wait to show it off," co-managing director Cameron Ashmead said. Brothers, Cameron and Allister Ashmead, have managed the design of the new cellar door to reserve the essence of the family home.
The two of them grew up in the house with their parents, Elderton Wines founders Neil and Lorraine Ashmead. Cameron Ashmead describes it as "one of Australia's grandest examples of 'Gentleman's Bungalow' architecture from the first world war period."
The new cellar door will provide facilities for private bookings, personalised wine experiences, bespoke wine events and corporate functions. Visitors will also enjoy seasonal platters and tasting plates, learn about Elderton's award-winning wines in the public tasting room and enjoy the immaculate lawns and garden surrounding the homestead.