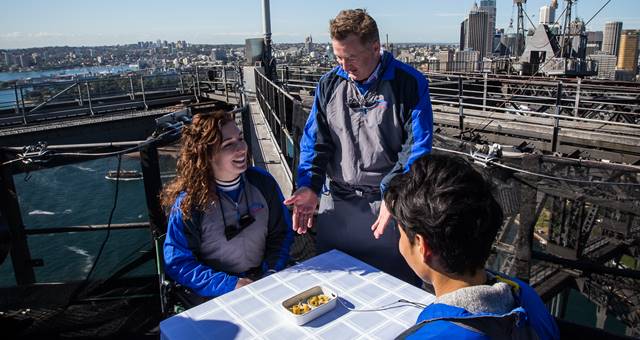 Luke Mangan and BridgeClimb joined forces to create a pop-up restaurant on the Bridge.
Yesterday at lunchtime Mangan served his guests three bite-size courses including his signature Kingfish Sashimi, organic egg crab omelette, enoki mushroom and herb salad, miso mustard broth, and Australian Lamingtons.
Jin Zexin from Guangzhou, China and Samantha Strachan from Jervis Bay, NSW were invited to enjoy the meal.
Zexin said, "This is the most incredible dinning experience. Each of the three courses were unbelievably delicious and I can't imagine a more breathtaking view or more Australian location to enjoy this moment from."
BridgeClimb, who has hosted famous chefs including British chefs Jamie Oliver and Willie Harcourt-Cooze and Indian's Sanjeev Kapoor on Climbs, was delighted to invite Luke Mangan to take up the unprecedented role and demonstrate the sky-high possibilities to tailor the Bucket List experience.
This is BridgeClimb's second venture into the culinary space, following The Canape Climb; a tailored experience inviting corporate groups to scale the iconic Sydney Harbour Bridge and taste specially created catering delights at the summit.