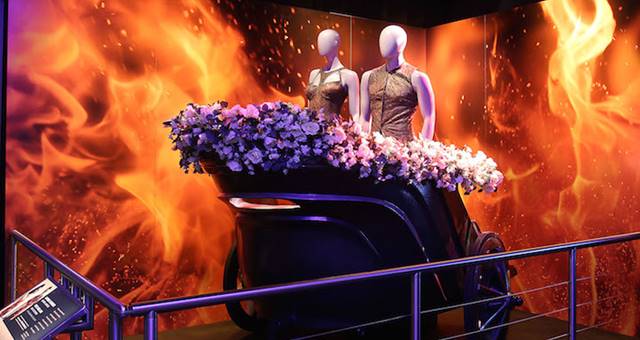 International Convention Centre Sydney to welcome Katniss and Co on December 20.
The Hunger Games: The Exhibition invites visitors to explore the world of Panem as created in the films. More than one thousand authentic costumes and props, high-tech and hands-on interactive and detailed set recreations reveal the artistry and technology behind the blockbuster films.
Visitors follow Katniss Everdeen's inspirational journey from her humble beginnings to her emergence as the Mockingjay. The exhibition features seven galleries including District 12, Tribute Train, The Capitol, Making the Games, District 13, Fan Gallery and Katniss's Journey.
"The exhibition offers visitors an unparalleled experience, bringing them inside the world of Panem," said Lionsgate senior vice president of location-based entertainment Jenefer Brown.
"Through a series of interactive, never-before-seen content and immersive environments, guests connect to The Hunger Games in a one-of-kind experience. Following massive success with audiences in New York and San Francisco, we're thrilled the exhibition will now visit Australia where the franchise enjoys a strong fan base, as well as direct ties to the films. Liam Hemsworth is among several in the cast and crew who have Australian roots and we expect there will be a very warm reception for the exhibition," she said.
Highlights include costumes from the films including: the Girl on Fire dress; the Mockingjay dress and the Mockingjay armor; key artifacts including the Mockingjay pin, Cinna's sketchbook and Katniss's bow; and interactive experiences including an explorable map of Panem, the Gamemaker's control table and a stunt choreography challenge.
The show opens to the public on 20 December and will run through 4 February. Tickets are available through Ticketek. Click here to view a promo video.