Sophisticated new interiors reflect the beachfront setting of this hotel.
All 204 accommodation rooms and suites at this 4-star hotel have new furniture in neutral tones, new lighting fixtures, plush mattresses, crisp new bedding, as well as new glass balustrades.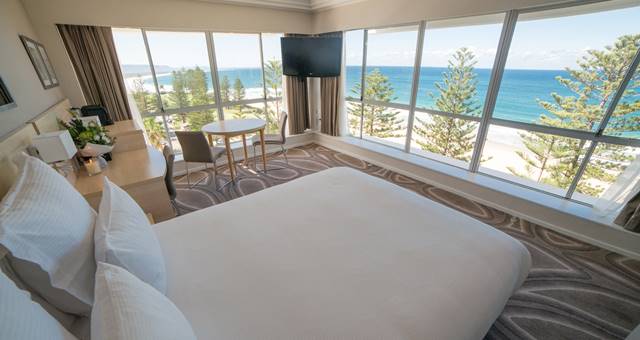 The rooms also have new bathrooms with upgraded tapware, lighting schemes and freestanding bathtubs (in some bathrooms).
The hotel also has 14 conference and function spaces, restaurants and bars, a pool, day spa, sauna and gym.

Novotel Wollongong Northbeach general manager Steve Savic said, "With all our guestrooms now complete, the new-look chic interiors reflect the beauty of Novotel Wollongong Northbeach's panoramic outlook.
"Following the successful opening of PEPE's on the Beach by the owners, the new-look rooms now compliment the hotel's new direction with its sophisticated yet relaxed beachside charm.
"With summer just around the corner, new and returning guests are encouraged to book a stay to experience our fresh new-look rooms at Novotel Wollongong Northbeach."
Novotel Wollongong Northbeach is located at 2-14 Cliff Rd, North Wollongong NSW.