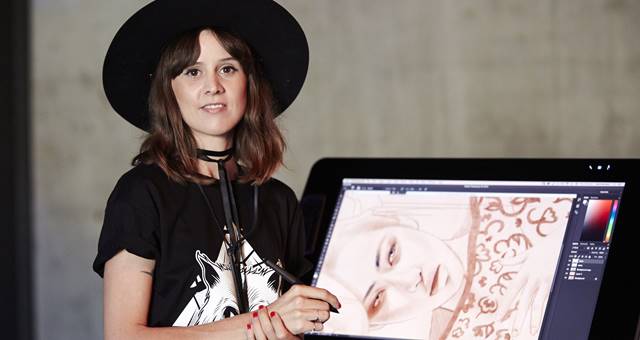 Creative services company Kojo produced Adobe's Sydney Make It conference with an attendee approval rating of 98 per cent.
The event was designed to encourage the creative community to engage and fully immerse themselves in new technology that featured the Adobe Creative Cloud.
Held at Carriageworks earlier this year, over 1,000 disruptors and creative innovators attended the live event that featured installations, partner activations, performances and a raft of thought leaders. The event also had a virtual audience of 4,600 from across APAC, including New Zealand, India, Singapore, Hong Kong, Taiwan, Indonesia, Malaysia, Thailand and Vietnam.
Thought provoking event spaces like the White Room revealed the inquisitive nature of the creatives in attendance. All surfaces were covered leaving a perfectly clean white surface on display. Coloured markers left on the table were promptly used by passersby, filling every millimetre of space with everything imaginable from stick figures to detailed graphic illustrations.
Kojo senior producer Sarah Lane said, "Overt partner branding would have been viewed negatively by the creative audience, so we created an immersive environment. We worked closely with the partners to produce activations that integrated seamlessly into the overarching brand's vision. From strategy through to communication across all media platforms, the relationship benefited the event and the partner, whilst reflecting the key purpose of the customer engagement event.
"The results of Adobe Make It prove the value of this type of customer engagement event for brands, with it reaching over 6.4 million impressions across all platforms, up 64 per cent on last year's inaugural event. The event trended at number 1 in Sydney during the keynote presentation and overall at number 3 across Australia for the remainder of the day. The event featured speakers such as Erik Johansson, digital artist and creator of the Photoshop Live – Street Retouch Prank. Plus there were 4,600 viewers to the first ever webcast, from countries including Singapore, Malaysia, Thailand, Indonesia, Hong Kong/Macau, New Zealand and the Philippines," said Lane.
Catering was provided by Woofy's Food Cart Company who sold spiced chicken tacos and dream Wagyu dogs from colourful carts.
Clare Cahill, Creative Cloud marketing manager – APAC, said, "Our goal was to double the size of our local creativity conference from the previous year, with more engagement and activity spanning across all facets and touch points of the event. Kojo served as a great partner to ensure our creative direction was seamlessly managed and executed. As a result, customer satisfaction rates were off the charts, further solidifying Make It as an integral part of Adobe's brand."