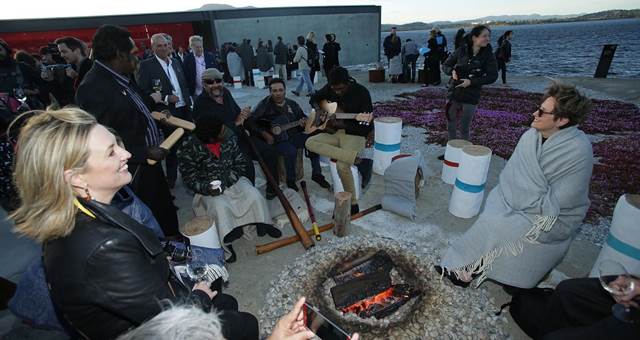 Tourism Australia hosted a Restaurant Australia dinner for the world's most influential food and wine VIPs at Hobart's Museum of Old and New Art (MONA) on Friday 14th November.
More than 80 international food and wine writers, columnists, critics, celebrity chefs, TV personalities, including Heston Blumenthal, Alice Waters, A.A. Gill, Sanjeev Kapoor and Yifan Liu joined Australians Maggie Beer, Matt Preston and Matt Moran.
The Invite to the World dinner menu was created by Restaurant Australia head chefs Ben Shewry, Peter Gilmore and Neil Perry AM.
The gastronomic journey commenced with a 'Sparkling and Sea' red carpet moment at Elizabeth Street Pier. Guests travelled to the second chapter 'Earth, Fire and Water' held at the Glenorchy Art and Sculpture Park (GASP!) to experience the first of many creative courses.
Departing GASP! guests then made their way to MONA's Nolan Gallery for 'Art and Produce' – the main course.
The final chapter 'Sticky and Sweet' saw diners enjoy a roving celebration of all things sweet in MONA's Void gallery alongside a selection of cheeses including the first raw milk blue cheese to be produced in Australia; King Saul by South Australian cheese makers, Udder Delights.
Tourism Australia managing director John O'Sullivan said,"Our global Restaurant Australia campaign set out to showcase Australia's impressive food and wine offering to the world, highlighting the depth and diversity of our local producers, chefs and winemakers – it exceeded our expectations.
"What our Chefs pulled together and the setting in which the meal was served was nothing short of breathtaking and has truly demonstrated the exceptional quality and unique produce we have on offer here in Australia.
"We hope all of our guests head home with the taste of Australia still firmly imprinted on their palate, and we look forward to them sharing their experiences with their many followers," said O'Sullivan.