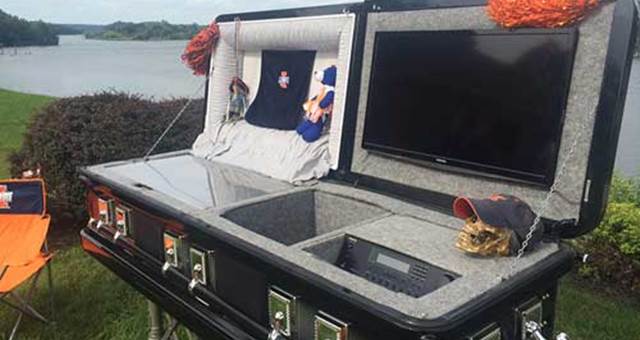 With Halloween just around the corner, this American innovation is certainly a talking point but would you have it at your event?
Party Coffins president Doug Dawson said, "This is a product and business models which was a collision of our natural love for Halloween combined with our passion for sports. We originally designed a tailgate coffin for our own use and quickly identified the demand for such a unique product from fellow tailgaters' feedback."
Party Coffins are designed from scratch and are customised to each customer's specific entertainment needs. Partycoffins.com offers a base model, which includes an Esky, mini-bar and power outlet. The deluxe model includes a built-in Esky, flat screen TV in the coffin lid, surround sound home theatre speakers built into the coffin, satellite network service to watch all your favourite sporting events, XM radio and is Bluetooth compatible.
Party Coffins are specifically designed to be easily transported in a trailer or the back of a ute and take just minutes to set up.