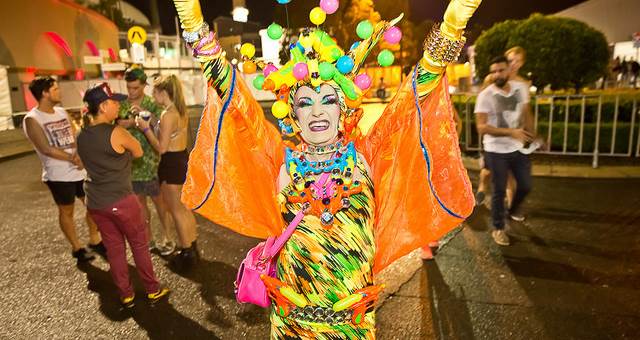 Delta Goodrem, Mazda Szubanski and Baz Luhrmann headlined at the 37th annual Mardi Gras.
Stormy weather didn't stop it from raining glitter at the 37th annual Mardi Gras that attracted 144 floats and 10,000 participants on Saturday night.
Sydney Gay and Lesbian Mardi Gras CEO Michael Rolik said, "This year's parade was one of the biggest and best we've ever seen in Sydney since the 30th anniversary in 2008! From the show-stopping performance by Delta Goodrem, and Magda Szubanski marching with Twenty10, to Baz Luhrmann's epic Strictly Ballroom finale, the night did not disappoint.
"It was also truly special to have Australia's oldest and largest gay and lesbian social group the Pollys as our Chief of Parade. I know it meant a lot to many people to have them represented in their 50th year! And having the first Trans* and Intersex float was something very important to all of us here at Mardi Gras. We know it won't be the last, and this is a group we will continue to work with in the years to come, alongside all in the LBGTQI community."
Rolik praised the behaviour of spectators who partied on after the parade at several venues in Moore Park, Sydney, until 8am the following morning.